Thank You SOAR
Christmas 2021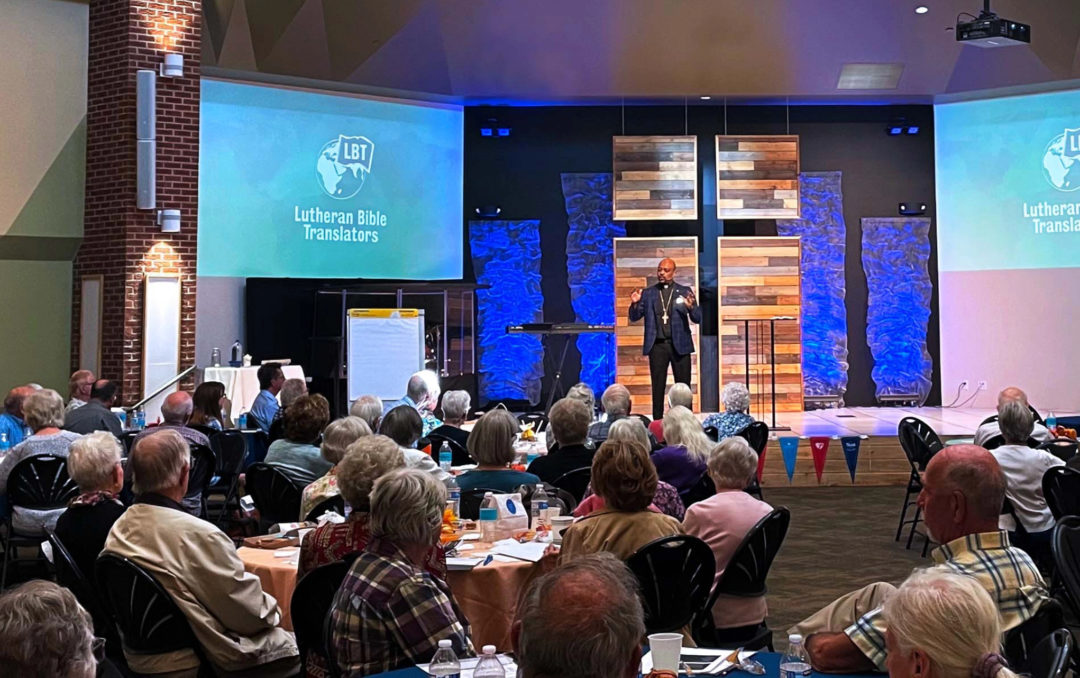 Dr. Tilahun Mendedo giving a presentation at SOAR's fall gathering.
Isaiah 40:31 NIV – "But those who hope in the Lord will renew their strength. They will soar on wings like eagles; they will run and not grow weary, they will walk and not grow faint."
Members of SOAR (Serving Our Awesome Redeemer) of the Lutheran Church–Missouri Synod's Rocky Mountain District take Jesus' Great Commission in Matthew 28:18-20 to heart. The group exists to strengthen one another in faith and equip others to know Jesus as their Savior.
SOAR is partnering with Lutheran Bible Translators in 2021 to invite others into the Bible translation movement. Drs. Mike Rodewald and Tilahun Mendedo presented about the ongoing work of Bible translation, literacy, and Scripture engagement at SOAR's fall gathering.
Executive Development Officer Dr. Brent Smith reflected:
"The event was filled with Scripture, prayer, and a call to selfless service to our Redeemer. Some participants drove for hours to attend the event because the testimonies of the presenters tell the story of God's powerful acts of salvation happening today. His promise in Matthew 24:14 is moving toward its fulfillment!"
SOAR has committed to support the Bandi Old Testament translation program in Liberia. Dr. Rodewald served with the Bandi people as a new Lutheran Bible Translators' missionary in the 1980s. He tearfully shared about the hunger for God's Word among the Bandi speakers. The process of translation was disrupted by a long civil war, but one older man held on to a tattered copy of Genesis he received in 1987. He preserved, read and studied his copy for three decades. He held on to the hope he found in God's Word in his own language. Now he is waiting eager for the whole Old Testament.
Your congregation or small group can be in the Bible translation movement alongside SOAR. Support language communities like the Bandi. Put God's Word in their hands.