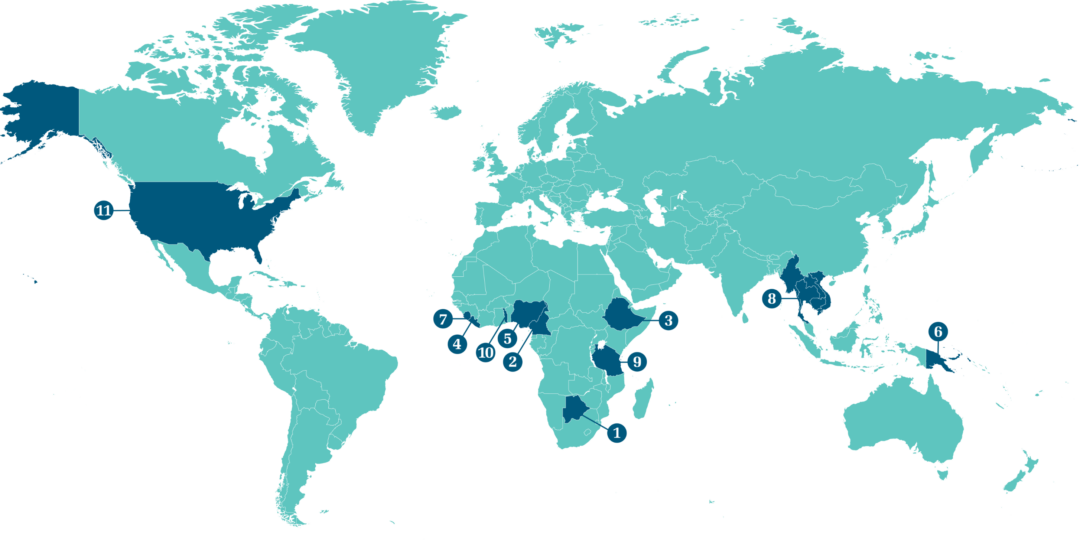 1. Botswana
Pray for the Shekgalagari team as they work on the final stages to publish the New Testament.
2. Cameroon
Praise God for the community engagement for the Subula* translation and literacy program.
3. Ethiopia
Pray for the final stages of construction for the Bible Translation Training Building on the Mekane Yesus Seminary campus.
4. Liberia
Pray for the distribution of Old Testament books to Bandi speakers to be used by congregations.
5. Nigeria
Pray for blessings upon Rev. Linus Otronyi and Rev. Kierien Ayugha as they serve with several language communities in the Ogoja and Obudu regions.
6. Papua New Guinea
Pray for wisdom and perseverance as Mandita and Margret encourage Ipili people to use God's Word in their own language.
7. Sierra Leone
Pray for health and safety for the Mende translators as they continue in their steadfast commitment to the project.
8. Southeast Asia
Pray that God will continue to strengthen believers as they receive Scripture Engagement materials.
9. Tanzania
Pray that God will bless the Kerewe team with understanding as they receive training in translation principles.
10. Togo
Pray that the Fakki are bold to learn to read and write their language.
11. United States
Pray that listeners will be enriched by the Living Water project.
12. Worldwide
Praise God for the 500th anniversary celebration of Martin Luther's New Testament into German.

Pray for safety for Aramaic speakers still in danger from the violence of war and the prejudice of their fellow countrymen.
*Note: Specific details were intentionally omitted or changed to protect the affected language community.
December
Melissa Schweigert
Isaac Esala*
Judah Grulke*
Paul Federwitz
Joan Weber
Serena Derricks
Josiah Wagner
Josh Wagner
Alyssa Petty
Kathy Knipmeyer
January
Eliot Esala*
Karen Tessaro
Josephine Derricks*
Alvina Federwitz
Michael Ersland
Tiffany Smith
David Federwitz
Alexis Olson
Deanne Gochanour
Aaron Beckendorf*
Micah Federwitz*
*missionary kid
February
Susan Kaiser
JoyAnna Federwitz*
Gideon Kuhn*
Michael Megahan
Rhoda Houge
Lutheran Bible Translators (LBT) bylaws define who may vote and gives you a chance to participate in nominating and electing the Board of Directors as well as participate in changes to the LBT bylaws (charter document). To see if you are eligible to be a voting member please visit lbt.org/members.
Here you will also find:
• Information about the 2022 election for the Lutheran Bible Translators Board of Directors
• Details on how to request nomination and voting information for the 2022 election
• Information about the Annual General Meeting
Thank you for participating in mission through your membership.