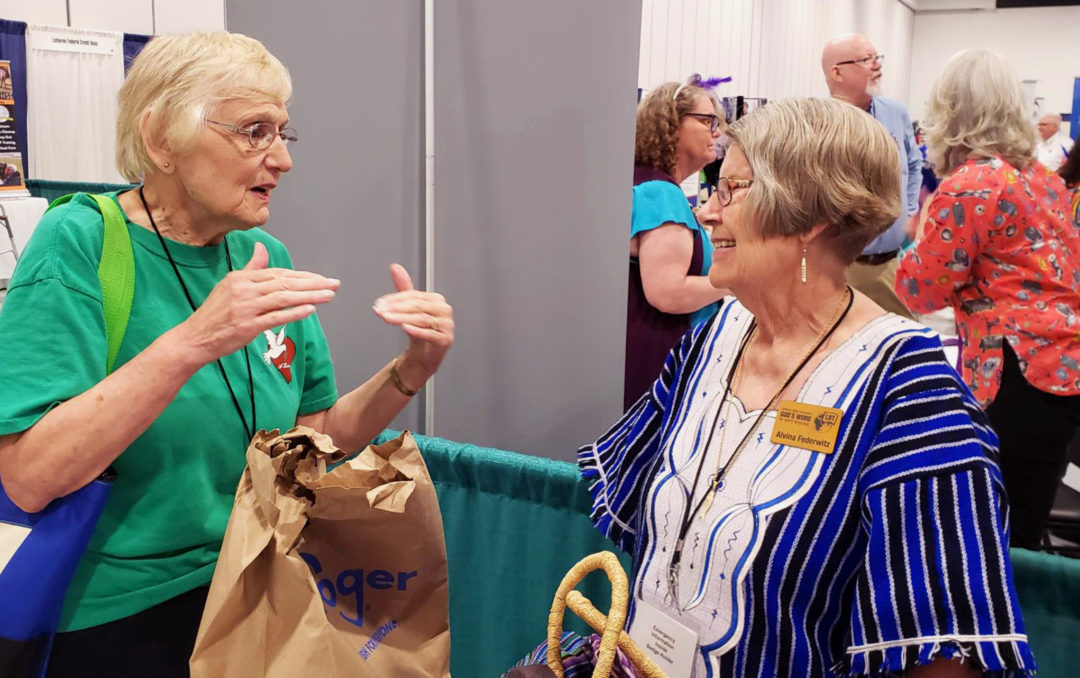 LBT Missionary Alvina Federwitz (right) talks with an LWML convention attendee (left).
"But she out of her poverty put in all she had to live on." (Luke 21:4 ESV).
They give generously. Their combined efforts accomplish great things. The Lutheran Women's Missionary League (LWML) uses the story of the widow's mite as their inspiration.
Praise God, LWML'ers raised over $2.2 million with their "mite boxes" and awarded Lutheran Bible Translators a $70,000 grant for ministry vehicles.
Bible translation and literacy programs are often in difficult to reach places, where road conditions are unpredictable. The LWML grant will fund the purchases of vehicles for the Bible Translation Office of the Ethiopian Evangelical Church Mekane Yesus and The Institute of Sierra Leonean Languages.
Regional Director Jim Laesch shared about one of his visits to Sierra Leone,
"We squeezed 9 passengers in a 7-passenger vehicle (plus 2 children on laps). Plastic jugs of gasoline were strapped atop the vehicle along with boxes, luggage, and more. We praised God after arriving at our destination 3.5 hours later.

I saw our partners had to take the extra mile and risk travelling to programs. Safe, reliable vehicles for program support and monitoring are not a luxury. They are a vital part of providing the tools to do the work month after month. Year after year."
The generosity of the LWML equips language communities in Sierra Leone and Ethiopia with vehicles they need. LWML's partnership puts God's Word in their hands.
You, too, can equip Bible translation programs with ministry vehicles.