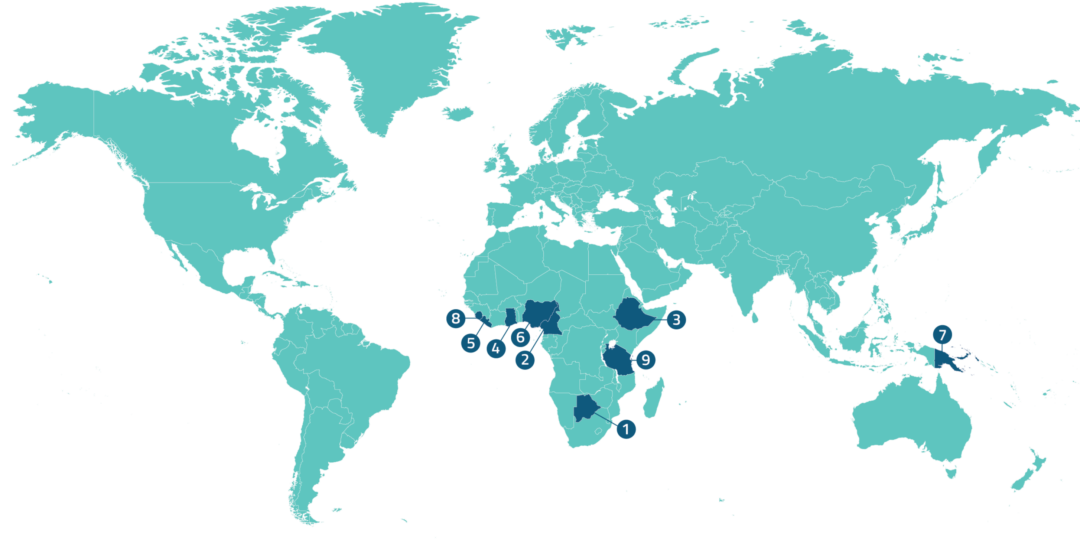 1. Botswana
Pray for the continued distribution of the Wayeyi translation of the Gospel of Mark.
2. Cameroon
Pray for Michaela Federwitz as she provides childcare for Rev. Mike & Kara Kuhn's family.

Praise God for the selection of translators for the Subula* Bible translation program. 
3. Ethiopia
Pray for Dr. Chris & Janine Pluger as they transition to their roles and new home in Ethiopia.

Pray for the continued partnership between the Mekane Yesus Seminary and Lutheran Bible Translators.
4. Ghana
Pray for wisdom and guidance for the Komba Old Testament translation program.
5. Liberia
Pray for the Dan and Maan Bible translation teams as they work through consultant checking.

Pray for continued literacy efforts and community outreach.
6. Nigeria
Pray for the distribution of the Yala New Testament and Psalms.
7. Papua New Guinea
Pray for continued wisdom and strength for Ipili translators.
8. Sierra Leone
Pray for continued support of the Themne community for the Bible translation and Scripture engagement programs.
9. Tanzania
Pray for Rev. Andrew & Alexis Olson as they settle back into living on Ukerewe Island.
10. United States
Pray for congregations as they participate in Bible Translation Sunday this September.

Pray for Sarah Esala as she takes on more roles and responsibilities as a Regional Director.
11. Worldwide
Pray for Tiffany Smith as she continues her pre-field training.

Pray for the planners and attendees of the virtual Bible Translation Conference event.
*Note: Specific details were intentionally omitted or changed to protect the affected language community.
September
Eden Federwitz*
Kelsey Grulke
Caleb Rodewald
Gideon Grulke*
Isaac Grulke*
October
Gloria Kuhn*
Brent Smith
Jim Laesch
Elizabeth Wagner*
Chikodi Derricks*
Martin Weber
Naomi Ersland
Rob Veith
Becky Grossmann
Linda Gari
Jubilee Kuhn*
Charlotte Brandt
Chuck Tessaro
*missionary kid
November
Michaela Federwitz
Rob Hilbert
Amy Formella
Andrew Olson
Sarah Esala
Lutheran Bible Translators (LBT) bylaws define who may vote and gives you a chance to participate in nominating and electing the Board of Directors as well as participate in changes to the LBT bylaws (charter document). To see if you are eligible to be a voting member please visit lbt.org/members.
Here you will also find:
• Information about the 2021 election for the Lutheran Bible Translators Board of Directors
• Details on how to request nomination and voting information for the 2021 election
• Information about the 2021 Annual General Meeting
Thank you for participating in mission through your membership.