They All Serve
Spring 2020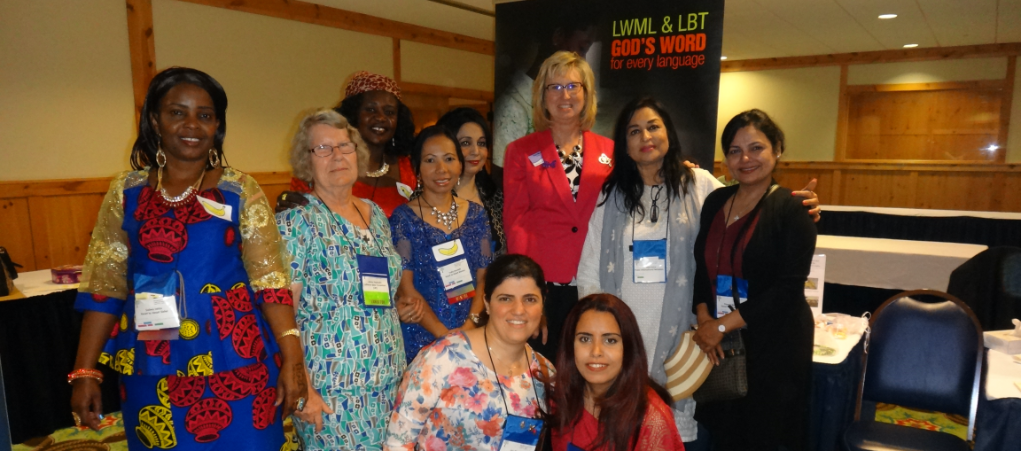 Out-going national LWML president, Patti Ross, with missionary Alvina Federwitz and international participants at a previous Michigan District Convention.
The Lutheran Women's Missionary League (LWML) is an invaluable partner in mission. Local, district and national support for Lutheran Bible Translators (LBT) ministries has helped impact over 20 million people in marginalized language communities with God's Word through their own languages. Members pray for the ministries they support. But that's not all. Evelyn Weibke, from LWML Iowa District East, is just one of many who volunteer to staff LBT booths at LWML conventions or promote Bible translation in other ways. "I support Bible translation because I can't go to another country and bring God's Word," shares Evelyn. "But I see other people who have gifts for bringing God's Word to people in their heart language – people like [LBT missionaries] Alvina Federwitz and Joan and Martin Weber."

Diane Reimold, LWML Mid-South District President, posts missionary newsletters and lobbies for Lutheran Bible Translators in her local LWML budget. "Every person should be able to read the Bible in their own language, in their heart language. If there's not a writing system already, start with that. It's so important for the Gospel to be shared," she says. Ella Kunkel of the LWML Washington-Alaska District served with her husband as a missionary in Africa for more than 20 years. She recalls, "I found that educated people were 'turned on' when they saw or heard the Bible in their own language. It spoke to them." Back home, she reminds pastors of the importance of Bible translation.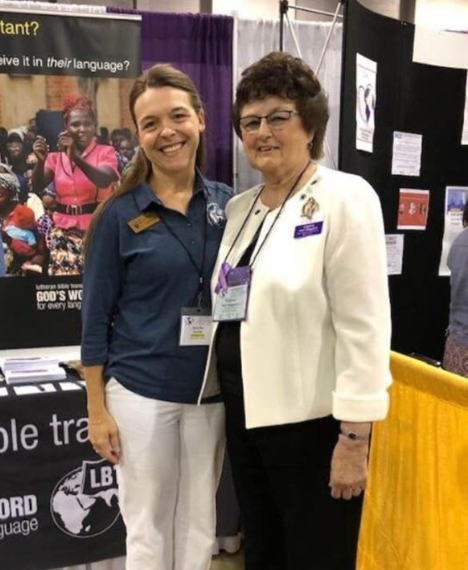 Former National LWML president Virginia Von Seggern and past Board Chair of
Lutheran Bible Translators visits Jennifer Kunkel at the LBT booth at
2019 National Convention in Mobile, Alabama
Though each LWML member story is unique, the goal is the same. Some served abroad. Some never set foot outside the US. They come from different backgrounds and different areas of the country. Their ages vary as much as their roles in LWML. Most of all, they love to serve. They volunteer their time with enthusiasm, organizing booths, securing staff, setting up banners, and distributing materials. They relate stories of their personal relationships with missionaries to the constant stream of women who stop by the booth. A long-time enthusiast for both LWML and LBT says, "Convention attendees often get excited when they learn that people who have never had the Word of God in their language now have it because of the work that LBT is doing around the world. There are no strangers at LWML conventions – everyone there is focused on reaching the lost!" One LWML member said that volunteering to assist LBT makes her feel like "a real missionary." Advocates for the Bible translation story are welcome to join her and the rest of the team at future LWML conventions. To find out more, contact
alyssa.petty@lbt.org
.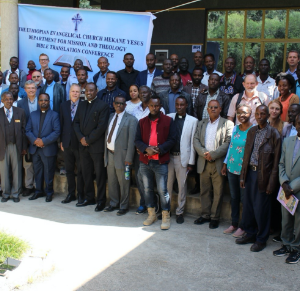 Leading Towards the Broader World of Bible Translation
Reported by Lutheran Bible Translators staff Dr. Jim Kaiser in Ethiopia & Rev. Berhanu Ofgoa, Director of Ethiopia Program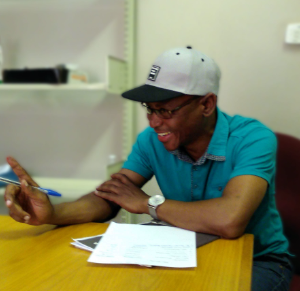 Following the Cause
Pastor Matlhaope understands the impact of Scripture in his native Shekgalagari language. 
Financials, Prayers & Birthdays
Celebrating the Word of God Here and Now!
Dedications of lectionary series om Vute & Kwanja-Ndung languages in Camerron West Africa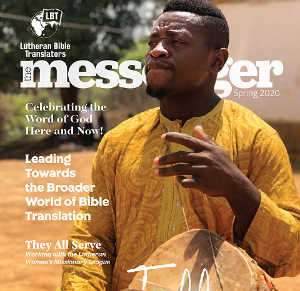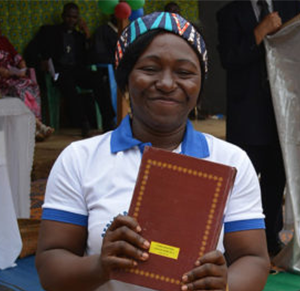 Other Articles
Blog Articles
If you would like to see Messenger as a printable PDF, click on this link to get the PDF: Messenger Spring 2020
Dr. Mike Rodewald, Editor
Barbara Beermann, Editorial Management
The Messenger is the official quarterly periodical of
Lutheran Bible Translators,
205 S. Main St, Bldg 5, PO Box 789, Concordia MO 64020.
1-660-225-0810 | www.lbt.org | info@LBT.org
Standard A Non-Profit postage paid at Aurora, Illinois.
Printed in the U.S.A.
Comments and inquiries are invited.
Correspondence may be directed to The Messenger Editor.
©2020 Lutheran Bible Translators, Inc.
Permission is granted to excerpt from this publication.
Please send a copy of use of material to the editor.
Executive Director: Dr. Mike Rodewald