The Listeners
Winter 2021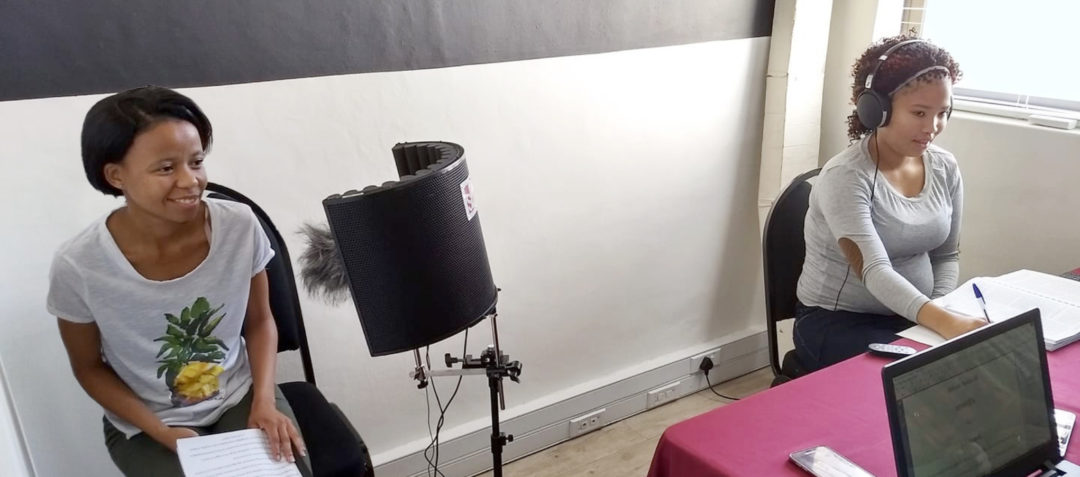 Two people working on audio for the Khoekhoegowab Bible. 
On October 25th, "Hundreds of members and leaders of all denominations witnessed the presentation of the new [Khoekhoe] Bible!" So said Valerie Isaaks, Bible Society of Namibia translator. In addition to the dedication of the full Bible text, the New Testament audio production was presented, as well as the Children's Bible.
The Khoekhoegowab [Khoekhoe people] live in some of the most remote parts of southern Africa. Many cannot read. Throughout the translation process, the translation team not only developed written language but also engaged in the oral Khoekhoe community for an oral version.
The KKG team hosted a radio program and read selections of the Bible translation drafts. Listeners called in with their suggestions and advice on the best ways to express concepts in Khoekhoegowab. Working through all 1,189 Bible chapters, the team finished proofreading, then organized for the production of an audio recording.
"Books are a 'new idea' for many people and may not be the best way to convey important information," says missionary Rob Veith. "Many cultures are oral – the spoken word has historically been the chief means of communication," he says.
A former missionary doubted that the beauty and wonder of this language could even be expressed in print – the Khoekhoe language uses 20 different click sounds as consonants! But now with your help, they can both read or hear the words of Scripture!
The Khoekhoegowab waited years for the Bible to be translated into their language. They waited even longer to hear it, but now all can understand the Word. They can search Scripture for themselves. God's Word is alive! To support audio Scripture, go to lbt.org/give.