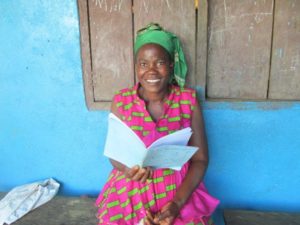 "After a year of attendance, I was able to read fluently in my language. I wasted no time but quickly joined the team of reviewers that was organized to edit the translation work in the Dan language. Today, through this Bible translation work, I can read the Bible in my mother tongue, teach in my language and more importantly, take part in editing the Bible that is being translated into my language."
Betty Gbor is a Dan speaker in Liberia. A widow with four children, she had a passion to serve as a church worker among her people. She very much wanted to participate in the Dan Bible translation project, ideally as a translator. But her inability to read prevented her from being selected as a team member.
"I didn't give up," she explained. "When a literacy class started in my village, I saw my opportunity and within a year was able to read in Dan." Now she can effectively share God's Word with her people, and eagerly anticipates the day when the whole Bible will be available to the Dan community.
The Dan are just one of the groups whose translation efforts were interrupted by war in Liberia. During that turbulent time, they found their lives endangered if they identified as Dan speakers. Now, with renewed pride in their language and an enduring desire for God's Word, Bible translation has resumed. The New Testament, first completed in 1981, is being revised while the Old Testament is being translated for the first time. The Dan people are enthusiastic about the project, offering prayer support and participation through local churches as well as individuals like Betty.
"I thank God for making me who I am today," said Betty. You can help others like Betty also find purpose and joy through Scripture. Read more about the Dan project and help put God's Word in their hands!