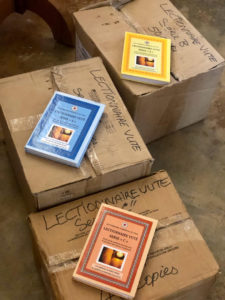 Lutherans of a certain age remember going to church on a Sunday morning and turning to either page 5 (The Order of Morning Service) or page 15 (The Order of Holy Communion) in the 1941 edition of the Lutheran Hymnal. Every part of the liturgy was clearly written out for the congregation to follow along.
Although the hymnal has been updated, modern worship services often follow a less formal liturgy. Still, there is an underlying structure and logic to how we worship. And it goes beyond the hymnal or songbook or the slides presented on a screen. The lectionary provides the foundation for weekly worship throughout the church year.
Many of us take such worship materials for granted. They are often not available to communities who have more recently received Scripture in their language. Further translation is needed to provide individuals and congregations with liturgies, songs and other resources. Click here to learn about the recent dedication of the Kwanja-Ndung and Vuté lectionary series and why a lectionary is important for Christian worship around the world.