I can see Interstate 70 from my house. I can also see it from my office window at Lutheran Bible Translators (LBT). Some days, watching the traffic go by, I feel the urge to just get in my car and join the flow. Pick a direction and go where the road takes me. And it would take me pretty far, all the way to Maryland to the east or Utah to the west.
Of course, I don't do it. I'm not the sort to drive off on a trip like that without planning and preparation. Too many unknowns, too many potential risks, too many "what-ifs".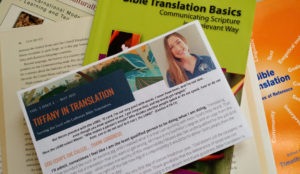 Those considering mission service also have questions and concerns. "Following God's call, however sure of it that you may be, can still be terrifying," says Tiffany Smith, LBT's newest missionary. "But my insecurities about becoming a missionary clearly lie in what I believe about myself and my own capabilities. What I should believe in instead are the capabilities of the One who sent me: Jesus. It is HE who began this good work in me, and it is HE who will continue it until it is finished. God equips those that He has called into mission."
For Tiffany, that means taking online courses now and anticipating further training in the Fall in preparation for a future assignment in Africa. She is also seeking partners who will offer the prayer and financial support that will make her ministry possible.
I may never get in the car, pick a direction, and drive. And that's ok. My place for now is right here in Concordia, Missouri, at LBT's international headquarters. Like most of you, I have not been called to the mission field, but I am part of a team that assists missionaries and translation teams to share God's Word among language communities that have no Scripture in a language they understand.
You can be part of the team as well. Tiffany would certainly appreciate your partnership, or you can choose another missionary or project to support. I encourage you to explore the LBT website. You may never visit Botswana or Sierra Leone or Papua New Guinea in person, but you can learn about the people and culture and play a vital role in bringing Scripture to those still waiting for God's Word.