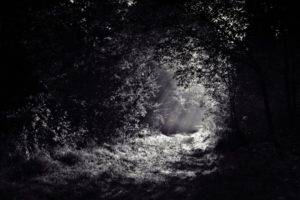 Twenty years ago, an executive director of Lutheran Bible Translators traveled to Liberia for the dedication of the Krahn New Testament. One afternoon he and three others accompanied a colleague from the village of Jarwode to the nearby village of Gbarkeh where the colleague planned to spend the night. After meeting with the village elders and enjoying a meal together, the director and his three friends began the walk back to Jarwode. But they didn't really know the way and the further they got from Gbarkeh, the darker it became. With no streets or streetlights, road signs or GPS, they were not confident they would be able to keep to the trail as they crossed through the countryside back to Jarwode.
With one small flashlight between them, they pressed on. As they crossed a dry, rocky streambed they unexpectantly met up with a young boy who was also going to Jarwode—and he knew the way. What a relief! Having a guide made all the difference. The small group made their way out of the darkness back to the light and security of the village.
Moving from spiritual darkness—living apart from God—towards the light of Christ is the experience of all who have come to faith. But almost 2,000 language communities—millions of people—have no Scripture available to them in a language they can understand. Not one parable, one psalm, or one verse.
Martin Luther said, "I have asked God…to give me the right understanding of His Word, the Holy Scriptures; for as long as I have God's Word, I know that I am walking in His way…" And he fervently believed that true understanding could only come if people had Scripture in their own languages. As we begin another year, Lutheran Bible Translators continues to work with partners around the world to provide Scripture to those who have not had the opportunity to come to faith, those who need guidance to lead them away from the dark path of false beliefs and superstition. We pray that you will join us! Find the latest updates on translation and literacy programs and ways that you can help at lbt.org.