Financials, Prayers & Birthdays
Fall 2020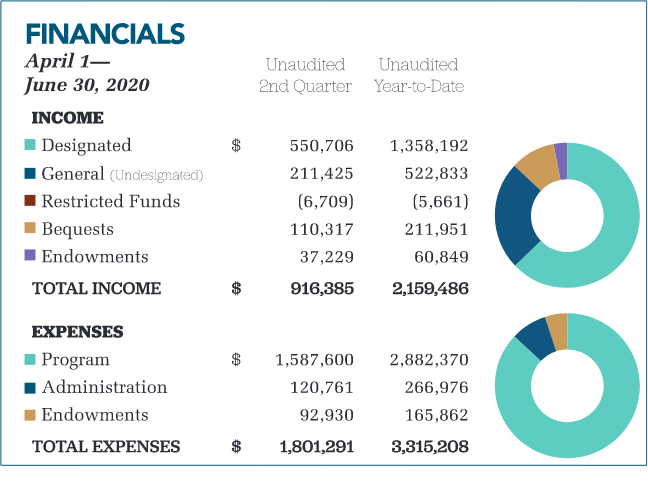 Pray for:
Botswana
> Pray for Carl and Kelsey Grulke as they visit with congregations to raise ongoing support during their time of partnership development.
Ethiopia
> Praise for the work of Berhanu Ofgaa as Program Director for Ethiopia and thanks for God's continued blessings in his life.
Liberia
> Pray for the Gola language committee encouraging Gola literacy in churches.
Nigeria
> Thank God for Chuck and Karen Tessaro and their 17 years of missionary service.
Sierra Leone
> Pray that the annual celebration of the Children's Ministry Program can take place and that it will motivate new members to enroll in the available literacy programs.
South Africa
> Pray for the growth and strengthening of literacy skills among the language communities of Botswana and Namibia.
Worldwide
> Pray for international partners who continue the work of Bible Translation and Scripture Engagement, even while learning to adapt to new ways of doing things. United States
> Pray that Lutheran Bible Translators missionaries who returned to the United States during the pandemic can return to the field safely and smoothly transition back into their work.
September
Marshall Schultz
Eden Federwitz*
Kelsey Grulke
Karissa Esala*
Carrie Federwitz
David Snyder
Caleb Rodewald
Rebecca DeLoach
Gideon Grulke*
Isaac Grulke*
October
Gloria Kuhn*
Jim Laesch
Elizabeth Wagner*
Chicodi Derricks*
Martin Weber
Naomi Ersland
Rob Veith
Jonathan Federwitz
Becky Grossmann
Linda Gari
Charlotte Brandt
Chuck Tessaro
*missionary kid
November
Rebecca Rudowske*
Michaela Federwitz*
Leah Federwitz*
Rob Hilbert
Amy Formella
Andrew Olson
Sarah Esala