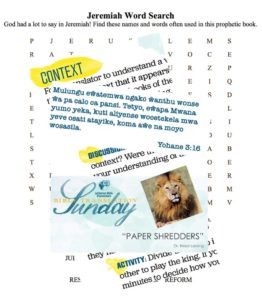 Did you know the latest discoveries indicate that even thousands of years ago, efforts were being made to accurately translate the Bible into the common languages of the time? It's a tradition Lutheran Bible Translators follows to this day. But millions of people still do not have Scripture in a language they understand.
You know, you don't need to be an expert on the history and intricacies of translation to celebrate Bible Translation Sunday on September 26. Just click here to find a variety of informative and fun worship materials. Want to learn about ancient 'paper shredders'? Check out the sermon by Dr. Reed Lessing. Want to test out your translation skills? There's a Bible study for that. Did you ever wonder what Scripture looks like in languages like Nsenga or Bandi? Take a look at the materials for kids. (It's ok, adults are also invited to enjoy the word searches and other activities!)
As you can see, all the elements needed for Sunday worship—including suggested hymns, readings, and prayers—are provided. Please talk to your pastor or church leaders and make them aware of this opportunity. We pray that they will be willing to help share about the need for Bible translation on September 26, or on any other Sunday that's convenient. And be sure to tell your friends, family, and neighbors as well. All are welcome to learn about the need for Bible translation and how they can put God's Word in the hands of those without Scripture in their languages.
God has issued an invitation to us—He invites us to be His children. His invitation is written in Scripture and He expects a response—that we have faith in Jesus Christ and live according to His Word. Furthermore, we are to share His invitation with everyone in the world. Learn how you can participate in His mission through Lutheran Bible Translators. Celebrate Bible Translation Sunday!