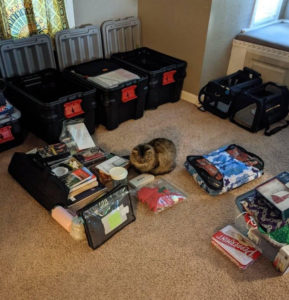 "Transition is hard," says Dr. Chris Pluger.
Chris and his wife Janine are finishing their preparations for a new assignment with Lutheran Bible Translators. They sold their house in June but won't leave for Ethiopia until August. In the meantime, "We're wandering across a dozen states, visiting friends and relatives and churches, saying a whole lot of hellos and way too many goodbyes."
As Chris explains, transition is hard right before you leave the old and familiar, and equally hard when you get somewhere new. "But for now," he says, "maybe the hardest transition is the time between going and coming. We've left our old place, but we're not at our new place yet. We're leaving our old friends behind, but we haven't met our new friends yet. We're neither here nor there. We feel unsettled, rootless. But this is life—our time on this earth is a time of sojourn, wandering, transition. Our hearts are restless, says Augustine, until they find rest in Jesus."
The Plugers are heading to Ethiopia precisely because of those hearts that do not yet know Jesus. Chris will work with multiple translation projects alongside the Ethiopian Evangelical Church Mekane Yesus (EECMY). He will also teach at the Mekane Yesus Seminary (MYS), assisting in the education of future Bible translators.
Chris and Janine are just one example of the many who willingly undergo the transitions necessary to serve God through translation ministry. They do so to share the faith that sustains Christians around the world as they face the challenges that transitions—both joyful and sorrowful—present.
Please pray for the Plugers during these finals weeks in the U.S. Pray for a good adjustment as they transition to a new life in Ethiopia. Your gifts and prayers provide stability and encouragement to all those serving with LBT language programs. Help put God's Word in the hands of those without Scripture so they may find comfort and strength through faith in Jesus during their sojourn on earth, secure in the knowledge that they will rest eternally with Him.