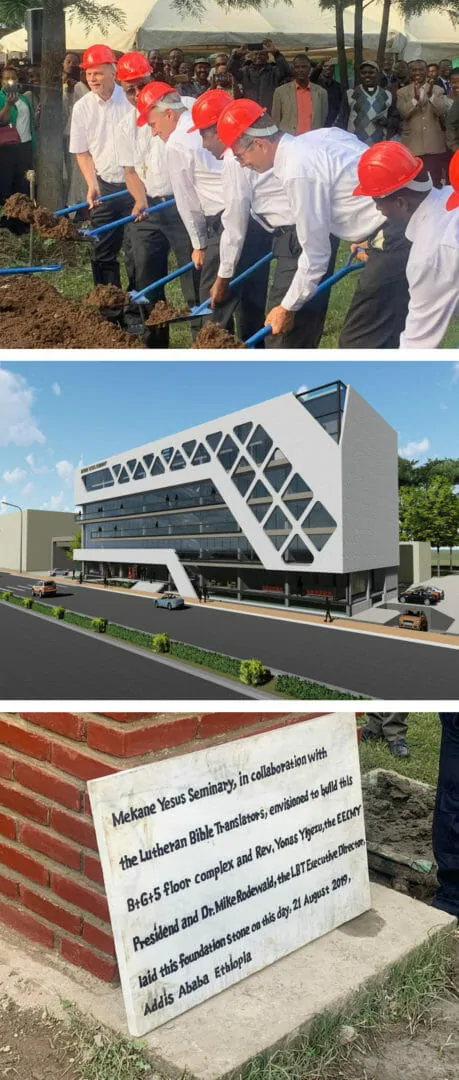 Dr. Mike Rodewald, executive director for Lutheran Bible Translators in Concordia, Missouri, was the keynote speaker during recent ground-breaking ceremonies for a unique building on the campus of Mekane Yesus Seminary (MYS) in Addis Ababa, Ethiopia.
MYS is part of the Ethiopian Evangelical Church Mekane Yesus (EECMY), one of the fastest growing Lutheran Churches in the world with a membership of over 9 million. In 2019, MYS through partnership with Lutheran Bible Translators launched an inaugural program that combines a Bachelor of Theology with a Bible translation track. The new building will not only provide facilities for the students in the program but will generate income to run the Bible translation training track.
"Not every seminarian may ultimately be called to a full-time Bible translation role, but each will be equipped to understand Scripture and professionally translate Scripture for their own people or for one of the other 85 language communities in Ethiopia," explains Rodewald.
Several hundred people attended the event, including representatives from the EECMY's 26 synods.
Reflecting on the occasion, Rev. Rich Rudowske, director for program ministries with Lutheran Bible Translators says, "The most vital opportunities to engage in Bible translation today are being driven by church partners. They are requesting specific expertise with the objective to further strengthen the skills of their own increasingly qualified workers and develop more infrastructure to aid in their Bible translation efforts. They want to grow and build local capacity to advance translation and evangelism."
Rev. Dr. Tilahun Mendedo, executive development officer with Lutheran Bible Translators agrees, adding, "It is a new day and new paradigm in mission for Ethiopian Lutherans and Lutheran Bible Translators. Together we engage believers with the Word to transform their lives, ministry and leadership."
Craig Olson, former CEO of a multi-national firm, long-time proponent of outreach in Ethiopia and LBT partner, also attended the ground-breaking ceremonies. He was inspired by what he witnessed. "This project is a beautiful example of the global cooperation and commitment of God's people to reach the people of Ethiopia and the continent of Africa with the Gospel of Jesus Christ, each in their "heart language". I love to see God's hand working among His creation."
For more information on how Lutheran Bible Translators can help you be part of taking the Gospel to every language, people and nation, visit LBT.org or contact us at 660-225-0810.