I thank my God every time I remember you.
One of my former co-workers liked to start her letters with these words from Philippians. Just a few words to signify how much LBT appreciates those who pray, those who give, those who advocate for Bible translation. And since Thanksgiving is fast approaching, it seems entirely appropriate to let you know how much your support means to those still waiting for God's Word in a language they understand.
As I'm sure you know, preparing a Thanksgiving dinner can be a major process. It can take days—maybe weeks—to plan, shop, cook, figure out where everyone is going to sit. When the day arrives, family and friends, people we care about, gather in celebration. Ideally, everyone eats their fill, has a good time, and remembers to give thanks for the blessings in their lives.
Bible translation is also a lengthy process. Preparation in advance of beginning actual translation—assessing the level of local interest and commitment, the logistics of setting up a translation office or center, creating and training a translation team, sending a translation advisor—will most likely take years rather than months. The translation work itself may span a decade or more.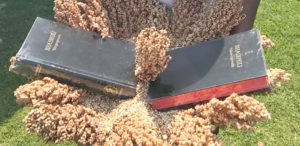 But then comes the celebration. The day when people gather to give joyous thanks for God's Word in a language they can understand. There will be singing, dancing, and yes, perhaps feasting. But when the day is over, people will return to their homes with more than just fond memories. They will have God's Word in their language, to hear, to hold in their hands, to share, to apply to their lives. Something tangible they've never had before: sustenance not for the body but for the soul.
Rev. George Chokpa remembers how over the years, ants ate some of the copies of the first print of the Yala New Testament in Nigeria. Now he encourages all Yala people to "eat" the reprint of the New Testament for their spiritual growth. As you gather for your annual Thanksgiving celebration this year, remember that dinners, simple or sumptuous, always come to an end, but the completion of a Bible translation signifies new beginnings for those hungering for Scripture in a language they understand.
Thank you for your partnership in the Gospel, bringing the life-changing and life-sustaining Word of God to people around the world. May your Thanksgiving be joyous as we praise and thank God for His many blessings.