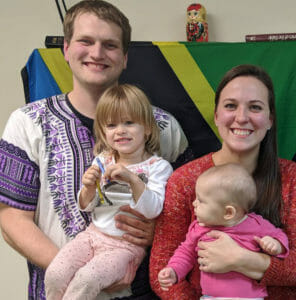 "One of the most enlightening classes we've taken was Second Language and Culture Acquisition," says new missionary Andrew Olson. "We learned how to set up a plan to learn a language from scratch, even if no books or language learning tools exist. These methods should greatly speed up the language learning process once we are on the field."
Andrew, his wife Alexis, and their two young daughters have been preparing for translation ministry with the Kerewe translation team on Ukerewe Island in Tanzania. Both Andrew and Alexis experienced life on the mission field as teenagers – Andrew in Tanzania, Alexis in Uganda. Andrew met Alexis when he spent a year in Uganda following his graduation from Northwestern College in Minnesota. Both felt the need for the Gospel to spread across the world. Alexis returned to the U.S. to attend Bible college and they married in 2015.
The Olsons know that their purpose in life is to tell others about Jesus, "We believe that we are placed by God here on the earth, to bring honor and glory to His name by using our gifts to serve Him and His church."
Bible translation takes intensive training
Bible translation is a complex process. Training provides the tools to bring God's Word as light for those who do not have it in their own languages.
After their appointment as missionaries with Lutheran Bible Translators in 2017, the Olsons trained at the Graduate Institute of Applied Linguistics in Texas. "It's hard work," said Alexis. "In a given week we would work with data from 10-20 languages to study the principles of language learning and resource development."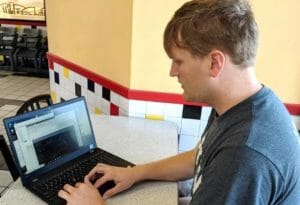 Andrew also took other essential preparation classes. Field Methods teaches how to gather and organize linguistic data to create tools such as grammars, print dictionaries and smartphone dictionaries. Translation of Texts provides an overview of translation philosophy, and best practices for translation work.  The Media Technology – Linguistics-Specific Media course demonstrates how to record an audio Bible, or record and dub the audio used for translating the Jesus Film.
The greatest opportunity
Those courses are just the tip of the 'learner' iceberg. There will be more formal and continuing education as the Olsons periodically return to the U.S. on their furloughs. That way they keep up with the latest developments and technologies towards Bible translation. They will also continue to be learners as they build relationships within the Kerewe community and discover the intricacies of an unfamiliar language.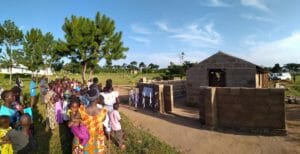 Andrew journeyed to Tanzania in 2018 and met the Kerewe translation team. He observed life and tried out his new camera to share photos with family, friends and supporters. It is a beautiful island. But his most lasting impression was the enthusiasm for the gospel, "Working together with these wonderful people to translate the Bible might be one of the greatest opportunities we have in our lifetime. We believe that it's God's mission to enable this work to go forward."
The Kerewe people are one among many language groups still waiting for Scripture in their language. Your gift carries God's Word to the shores of Ukerewe Island and beyond.