"This book has been a long time in coming," said Becky Grossmann. "But we rejoice that the Gola New Testament has been typeset and is undergoing last revisions before printing."
About 182,000 people in western Liberia and Sierra Leone speak the Gola language. Lutheran Bible Translators has a long history with this language group. In fact, Liberia was one of the first countries where Lutheran Bible Translators worked, and Gola one of the first language projects, begun in 1969.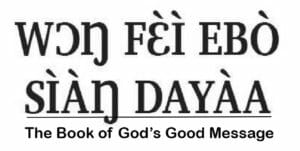 Gola was an unwritten language. Early missionaries developed an alphabet and grammar. Translation began during the '70s and '80s. Illness and then civil war slowed progress. The project took on new life in 2014, with Lutheran Bible Translators' missionary Becky Grossmann serving as translation advisor to a new Gola translation team, who together carried the project to completion.
A Gola speaker made the following observation. "We cannot go through life thinking that tomorrow I will change and give my heart to the Lord. We tend to think that, we have so much time in which to make our lives right with the Lord but the Word of God says, 'Today is the day of salvation.'"
Give thanks that the Gola people will soon have the Words of salvation  – the Book of God's Good Message – to have and hold in their hearts.