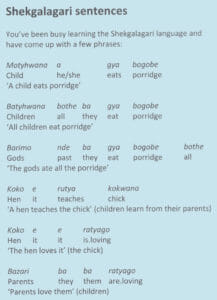 Since 1997, the Concordia universities have gathered together annually for the Beautiful Feet Conference, its name inspired by Romans 10:15. Each year, mission-minded college students and faculty travel to one of the Concordia schools to be challenged: "How do we live a missional life in Christ?"
Lutheran Bible Translators has attended the conference since its inception to share about the need for Bible translation ministry and to mobilize students for participation in God's mission. Held at Concordia University Texas, the opening evening of the 2018 event featured a mission dinner hosted by several Lutheran Bible Translators' staff, led by Emily Wilson, mission mobilization coordinator. With over 200 students and staff in attendance, Lutheran Bible Translators had the floor!
The evening was designed to be experiential. Participants enjoyed ethnic food from Africa, Asia, and Papua New Guinea. Guests were required to follow unique cultural traditions for dining (such as only eating with the right hand, eating very small bites, etc.) "Lutheran Bible Translators' dinner event was a great way to expose students to the cultural awareness needed to serve successfully in any mission setting," Concordia University of Nebraska's Director of Global Opportunities Julie Johnston Hermann commented.
The audience was challenged with a translation simulation, a quiz of proverbs from Botswana, and sharing stories of lives impacted by Scripture in the heart language. Throughout the course of the event, attendees saw the impact of heart language in missions.