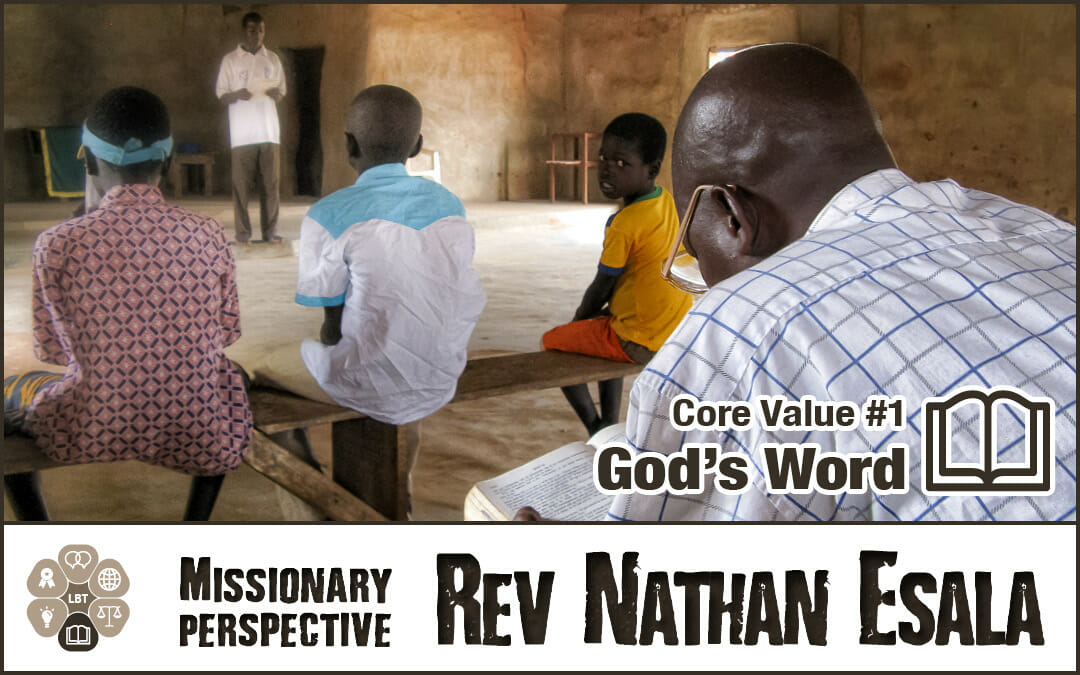 "God's Word doesn't change, but I am always changing," said Mark Newman, Bible teacher and basketball coach at Lake County Lutheran High School in Hartland, Wisconsin. He and his wife, Amy, long-time friends of my wife Sarah and I, recently adopted a child. They were telling us how they now experience some of the passages of Scripture on adoption in a deeper and more layered way based on their personal experience with adoption.
Similarly, in an attempt to describe their experience with God's Word, some theologians in Ghana have compared God's Word to a diamond. Human experiences, including language and culture and place in history, affect how we see different facets of the diamond in the Bible.
Adding Life
Recently I experienced this "multi-faceted" nature of God's Word by utilizing a process called Contextual Bible Study among the Komba people in Ghana. The Likɔɔnl (Komba) translation team participated in a Bible study among people living with disabilities in the village of Gbintiri in Ghana's Northern region. It's the same area where my family and I had lived and worked for ten years on New Testament translation. The secretary of the disabilities group was also on the translation team, and he suggested that the translators could read Job 2 with their group. In this section Job is urged to "Curse God and die." The secretary explained that many people living with disabilities have been told similar things, and he thought this passage would help participants to see something similar to their experience in Scripture that studying it would "add life to the participants."
Adding life to the participants seemed like a worthy goal both for the participants living with disabilities and for the Komba Bible translation team to learn how the Bible is rich enough to speak into difficult situations in ways that release life into experiences which are surrounded with so much death. In an effort to balance the complexity of Scripture we also went on to read Job 3 with them, the lament that Job speaks to his friends where he does
curse the day he was born. It is a difficult and complicated part of Scripture, probably as difficult and complicated as the lives of the participants.
Different facets
In the study we encouraged the participants to use their own resources for understanding the passage as well as offering resources from the discipline of Biblical studies which might help them read in ways that "add life to them." I observed the participants wrestle with this difficult passage in light of their experiences. And I believe they saw different facets of the diamond of God's Word including words of life and grace amidst their suffering. My experience with them is also helping me to begin to see this passage from their point of view which inevitably changes the way I look at Scripture as a North American Lutheran involved in Bible translation giving me new glimpses of the multi-faceted diamond of God's Word. Somewhat similar to the Newmans' experience with adoption, I will never read this section of Scripture the same way again. The Bible hasn't changed—but I have—because of my experience reading God's Word with people living with disabilities in Ghana.