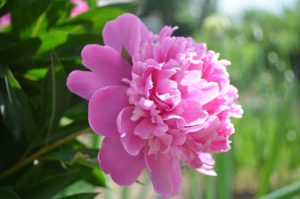 I'm just old enough to remember when Memorial Day was called Decoration Day and was celebrated on May 30. Originally designated as an occasion to place flowers on the graves of those who had fallen in war, it also became a time for many to visit the graves of family members and friends.
I still remember my mom cutting peonies from the bushes that bloomed in our yard at the end of May each year. The large pink and white blossoms joined other colorful bouquets placed by families and friends on the resting places of their loved ones throughout the cemetery.
Another tradition I'm sure you're familiar with is giving a gift in someone's honor. It may be a gift in remembrance of someone who has passed away, or it can be a tribute to someone whose living presence brings joy and meaning to your life.
You can make a gift in honor of those special to you through Lutheran Bible Translators. Your donation will help put God's Word into the hands of people who do not have the comfort of Scripture in times of grief or the spiritual guidance and counsel that informs our daily lives and relationships.
We all have people who have made a lasting impression in our lives, and it is fitting that we remember them with gratitude and appreciation. Share the love of Jesus as you honor someone dear to you.
Click here to give online or call 660-225-0810 and ask for In Honor cards to be mailed to you.