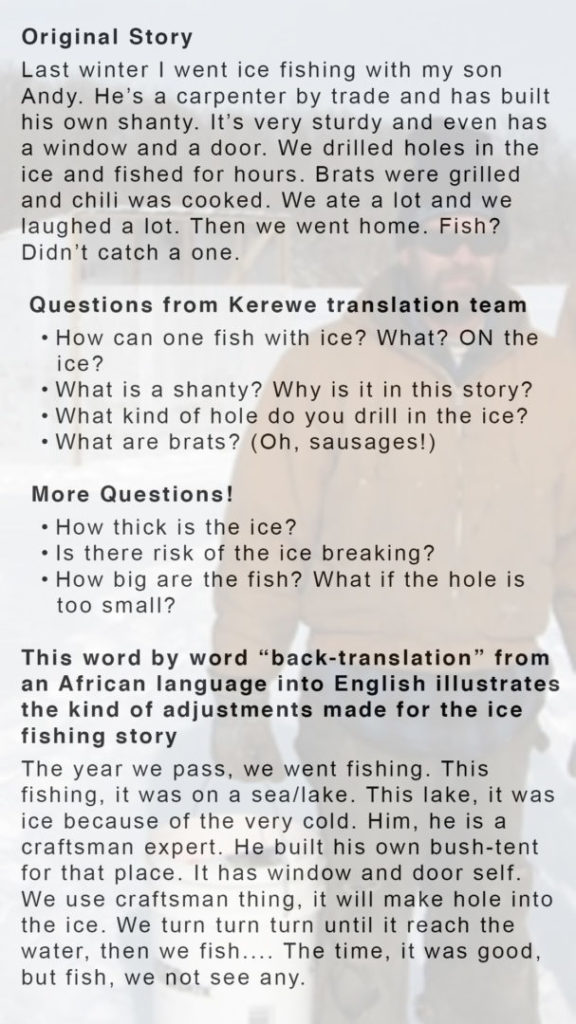 Jim Laesch, regional director for southern and eastern Africa for Lutheran Bible Translators (LBT), had presented the Kerewe translation team with a challenge. They were asked to translate a story about Jim and his son Andy from English into Kerewe.
They had lots of questions.
Andy recently accompanied Jim on a visit to Ukerewe Island in Tanzania, home to the Kerewe people. While there, Andy met with the translation team. They were excited to speak to him directly, to "get at the source of the story" so they could produce a faithful translation.
And there were more questions.
Although a completed translation of the fishing story is still pending, the training exercise achieved its purpose.
The Kerewe translators learned they had to first discover the meaning of the original text. This involved reading and learning about the culture and vocabulary of ice fishing. As they work on Bible translation, they will have to discover the meaning of Scripture through study of the original Greek and Hebrew texts, which are thousands of years old and come from another culture. They will also use completed translations in national languages as well as Biblical resources and commentaries to craft a new translation that is accurate and clear in Kerewe.
The team also learned how to apply translation principles to craft text into their own language. Because languages and cultures vary, they express things differently; it requires study, creativity, patience and humility. Usually there are many revisions as a text moves from the first draft to the final version.
The Kerewe translation team received valuable training. As for Andy, his visit to Ukerewe Island was a validation of sorts. He spent his early years in Liberia, where father Jim served with the Grebo New Testament translation team. "It gave me the opportunity to see clearly why we were in Liberia so many years ago," he commented. "I also made some new friends and was able to share with them a little more about ice fishing—that was a real surprise!"
Understanding the message, finding the right words. That's what the work of Lutheran Bible Translators is all about. Millions of people can't read the Bible in a language they understand. Learn how you can put God's Word in their hands!