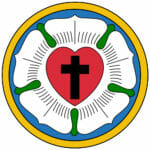 The young Martin Luther invested years of his early life trying to figure out how he, a sinful being, could become reconciled with God. Once he came to understand that justification cannot be earned, he invested the rest of his life in helping others to understand that faith in Jesus Christ is the only path to salvation—and that walking that path and growing in Christ is a life-long process, for both the individual and the Church.
What Does This Mean?
Invest is a word we usually associate with financial profit, but the original investire means to clothe or cover with a garment. Subsequent meanings include to surround, to empower, and to give or devote time, talent or resources to do or bring about good. In Luther's case, his investment resulted in more than one man discovering redemption – it changed the world.
Luther's investment is still bearing fruit. Forty per cent of all Christians can trace their religious roots to the Protestant Reformation. The church that carries Luther's name is growing in places like Africa and Asia. But despite the progress, the process is not yet finished – millions of people still do not know Jesus Christ as their Lord and Savior.
What Do We Do?
Lutheran Bible Translators owes its heritage to Martin Luther—our doctrinal identity, our translation and Scripture engagement ministry, our conviction that God's Word is for every language. Our staff, missionaries and international partners invest their lives in the mission of making Scripture accessible to those who do not have it in a language they understand.
Changing Lives
A Kono woman in Sierra Leone was brought up as a Muslim. She was taught to pray, what to pray and when to pray, but the prayer was not in a language she could understand. Then she began to attend Kono literacy classes sponsored by LBT's partner organization in Sierra Leone.
"Each literacy class begins with Scripture reading/listening from the Kono New Testament," explains LBT's regional director for West Africa. "This woman heard the Lord's Prayer in her own language, and it changed her life. She learned that she could pray at any time and her teacher explained she could use the Lord's Prayer to model her own personal prayers and petitions."
This encounter with the Lord's Prayer in her own language so impacted the woman that she put her faith in the one true God, who promises to take care of her daily needs.
"I wish…that this book alone, in all languages, would live in the hands, eyes, ears, and hearts of all people." Martin Luther's words still resonate with us today as LBT missionaries serve in translation and Scripture engagement programs around the world. Like Luther, we are investing in people who are still waiting for God's Word and enjoying the wonderful profit of seeing their lives transformed.