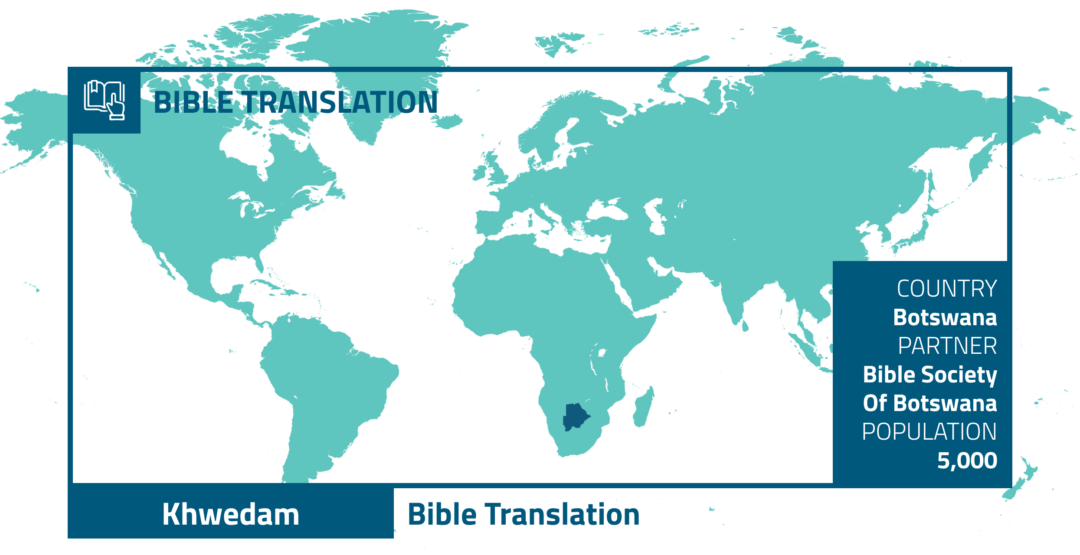 The Khwe people of Northern Botswana – speakers of Khwedam – have been marginalized because of their small numbers and minority status. The Khwedam Panoramic Bible Translation Project is bringing people into a Christian relationship with God and expanding social empowerment. They learn their worth in the eyes of our Creator. Even those in remote villages are being touched by God's Word through print and audio Scripture. 
The Khwedam Panoramic Bible utilizes portions of both testaments to illustrate God's plan for the salvation of all people. The Khwe are eager to learn more and are enthusiastically participating in a growing literacy program in anticipation of the Bible's publication.
GOALS
Prepare the Panoramic Bible manuscript for publication.
Encourage the interest in literacy and provide needed resources and materials.
IMPACT
The Khwedam people have gained a sense of self-worth through knowing that God speaks their language.
Audio Scripture has reached people in remote areas and generated interest in literacy.
Pray the local communities will fully support the translation work.
Pray that interest in literacy continues to grow and that the team will be able to answer the need for classes and materials.
Pray that the translation team will stay focused and committed in the face of external challenges.
Khwedam is one of approximately 30 click languages, spoken by people who live in on the of most remote areas of Africa. Hearing Scripture portions in their mother tongue has fueled interest in learning to read and write this unique language as people discover that their culture and language have value.
Want to get involved?
Contact a recruiter and see
what options are available!