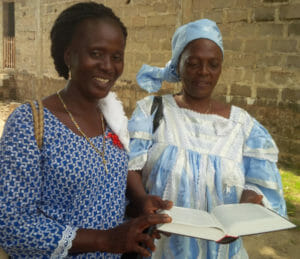 Would you know Jesus if you hadn't been able to access Scripture in your own language? Are you fluent enough in a second or even third language that the richness and fullness of the Bible in those languages would be clear to you?
A local translator in Botswana said: "Thank you to all those who donate to Lutheran Bible Translators. If it were not for you, we could be reading these Bibles which we do not understand." What a huge and telling statement. Reading Scripture shouldn't be a confusing and challenging chore that leads to frustration and misunderstanding. Our Father "wants all people to be saved and to come to a knowledge of the truth." (1 Timothy 2:4)
One of the reviewers for the Gola translation in Liberia described her life without Christ. "Even though I had heard about Christ, it was like I was living without any guidance or purpose. I didn't understand He wanted to have a personal relationship with me every day. When I heard John 3:16 read in my own language, it touched my soul and my heart and caused me to take Christianity seriously."
I can't state it any plainer than this lady in Liberia. Having Scripture in your own language matters.
Pray that God's Word might go forth. Give that others discover the joy found in Scripture. It's meant for all.