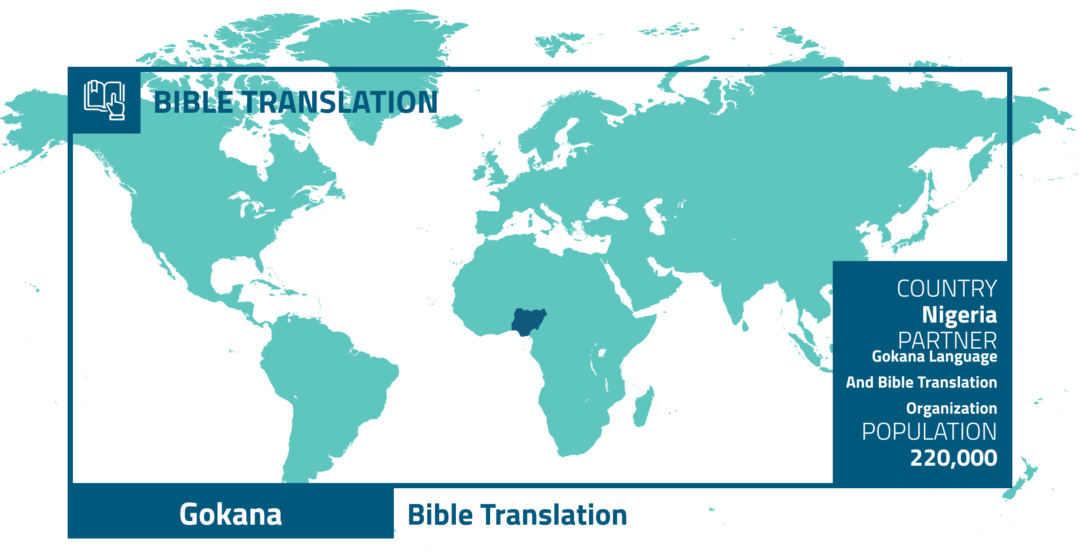 A group of Gokana pastors recognized the need for translation over 30 years ago, resulting in the publication of the Gokana New Testament and other Bible materials. But a complete Bible is necessary if people are to truly understand how God has been working for our salvation throughout history. 
The entire Gokana Old Testament has been drafted but is still in need of team and consultant checking, a vital step leading to publication. Printing and distribution of a trial edition of Genesis will help the translation team assess the accuracy and effectiveness of their work as they review and refine the Old Testament draft.  
GOALS
Complete the review and checking of Genesis through Judges.
Print a trial edition of the book of Genesis.
IMPACT
People have a greater understanding of God's plan for salvation through a complete Bible translation. 
Engaging with God's Word changes lives. 
Pray the Gokana New Testament continues to impact lives as people read and hear God's Word in their language.
Pray for swift and accurate checking of the Old Testament draft.
Pray the trial edition of Genesis will be well received.
Want to get involved?
Contact a recruiter and see
what options are available!