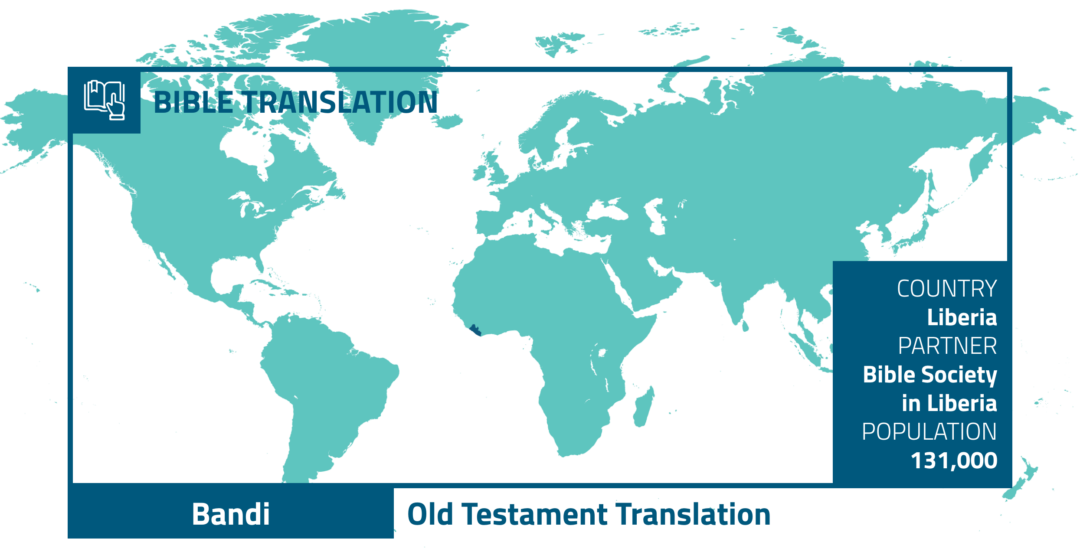 Bandi speakers need the full Bible. The New Testament is available, but that is only half of the Bible – only half the story of God's Word. 
People cannot understand the New Testament fully without the books of the Old Testament in their language. They are using the English version now, but most people do not understand it well. 
Church leaders are calling for the translation of the Old Testament. They want their communities to have access to the full account of God's plan. The complete translation of the Bible equips communities to read, study, understand and share God's Word. 
The Bandi church will continue to grow as more people have access to the complete story of God's Word. 
GOALS
Draft the books of Leviticus, Judges, 1 Chronicles, 2 Chronicles, Isaiah, 1 Kings, 2 Kings, and Psalm 1-150. 
Print and distribute copies of the drafted and checked books to churches, Bible study groups and literacy classes.
IMPACT
Church growth is increasing in Bandi communities.
People have greater appreciation of God's plan as they read the full Bible.
Pray that the Bandi continue to grow in their understanding of God's Word.
Pray that the Bandi community offers good feedback on translated Old Testament portions.
Pray for continued support from local churches.
Want to get involved?
Contact a recruiter and see
what options are available!