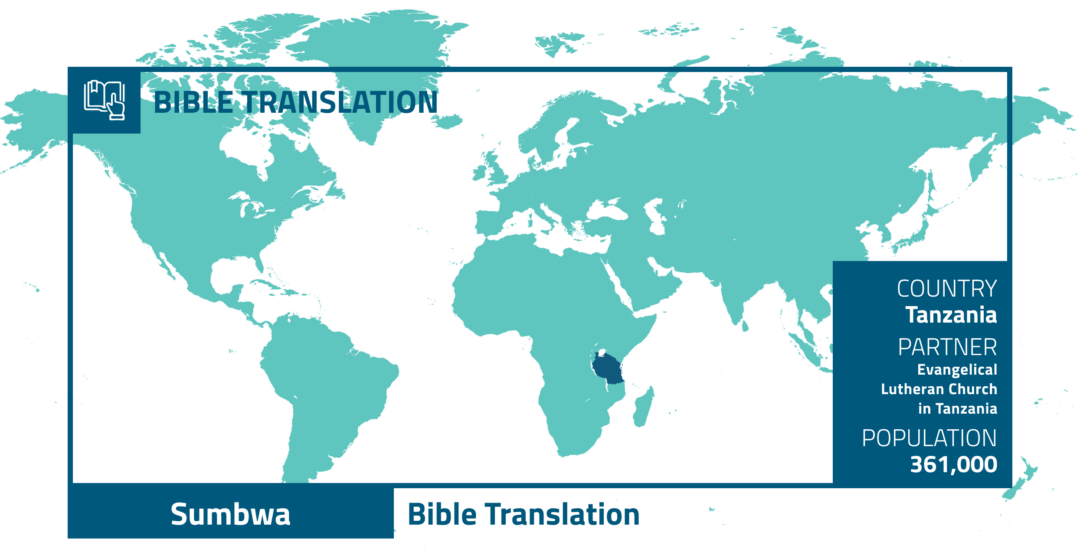 The Sumbwa speakers of central Tanzania have a deep connection to their language. They speak it in their homes and to their children, encouraging the next generation to carry on this piece of their heritage. 
The East of Lake Victoria Diocese, part of the Evangelical Lutheran Church in Tanzania, wants to share Jesus with Sumbwa-speaking people. The leaders understand the need for Sumbwa Scripture and devotional materials for families to use at home. 
Your support sends local leaders through a translator training program that meets several times a year over the course of several years. Equipment like a high-capacity laser printer will enable the team to print devotional materials as they go – for families to use immediately. This approach will build community support for the remaining work. 
GOALS
Select 10 translators in preparation of beginning translation work.
Travel to Ukerewe Island to receive coaching and support from the Kerewe team.
IMPACT
Translated Scriptures will help the ELVD reach the Sumbwa community.
Sumbwa speakers will have the Word of God in their language to use in church as well as in their family.
Pray for the selected translators as they strengthen their translation skill through further training.
Pray that the Sumbwa community will have the Word of God to use in their homes with their families.
Want to get involved?
Contact a recruiter and see
what options are available!