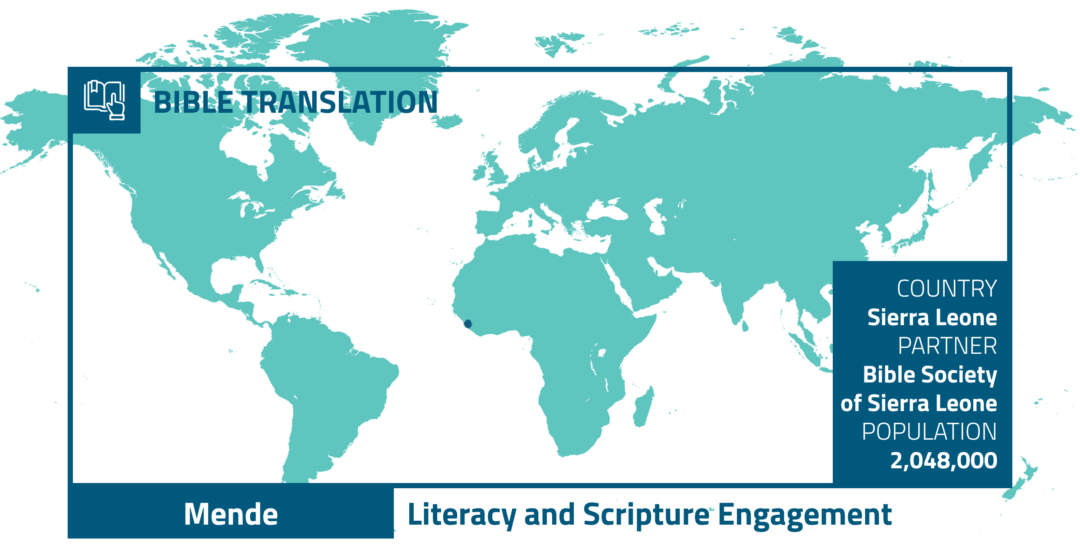 ​The Mende literacy program will fulfill the desire of Mende speakers to develop reading and writing skills in their own language. Teachers raised up from within the community will lead workshops, seminars, and literacy groups. Mende speakers will learn to read Scripture at home and in church and churches will see a growth and deepening of faith. 
A variety of programs and activities—Bible reading groups, Bible listening groups, radio programming, events highlighting mother tongue usage—will be available to the Mende community. As individuals learn to read and write Mende, they will teach others to do likewise, sharing God's Word with believers and non-believers alike.  
GOALS
Print literacy materials to facilitate the opening of new literacy classes.
Conduct a pre-primer teacher workshop to begin 14 new literacy classes.
IMPACT
People are empowered to read and interact with God's Word in their heart language. 
The Mende church grows as people read Scripture in a language they understand. 
Pray local churches will be actively involved in literacy efforts.
Pray people will be blessed as they read and share Scripture through the Mende language.
Pray non-Christians will be reached through Mende literacy programs and personnel.
Want to get involved?
Contact a recruiter and see
what options are available!