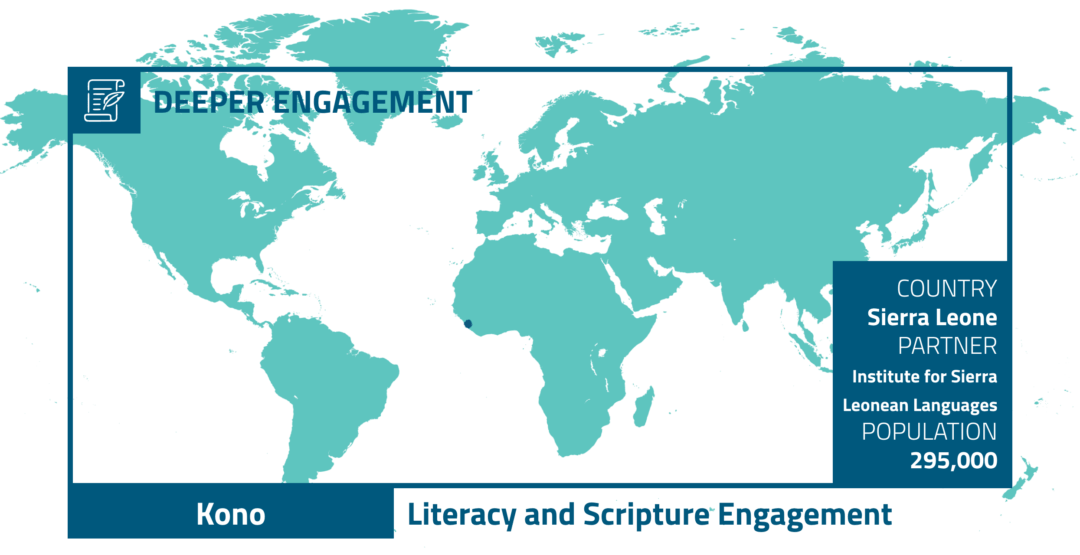 The Jembwe family had difficulty observing the required Muslim prayers, because they didn't understand the meaning of the words. When they enrolled in a Kono literacy class, The Lord's Prayer in Kono made them realize they could pray to God in their own language. The Jembwes, fluent in Kono, are now members of the Lutheran church. "We hope to be members until we join other believers in the life hereafter."
The launch of the Kono New Testament in 2008 allowed churches to use Scripture in Kono for the first time. The locally run Kono program promotes God's Word through literacy, translation, and training. Literacy graduates encourage others to join the program resulting in steady expansion. The focus is to transform lives through God's Word in the mother tongue. 
GOALS
Expand the number of classes and students. 
Develop and print new literacy and Scripture engagement materials. 
IMPACT
A community proficient in reading is ready to use translated Scripture. 
Individuals are witnessing to others in their common mother tongue. 
Pray for a continuing increase in local funding as the Kono community sees the benefits of literacy.
Pray that literacy leads to deeper engagement with Scripture.
Pray for literacy facilitators as they travel to remote areas with dangerous road conditions.
Help bring the Kono language community deeper access to Scripture in the language that speaks most deeply to their hearts. Increased literacy can give them the tools they need for personal spiritual enrichment as well as effective outreach to their people.  
Want to get involved?
Contact a recruiter and see
what options are available!