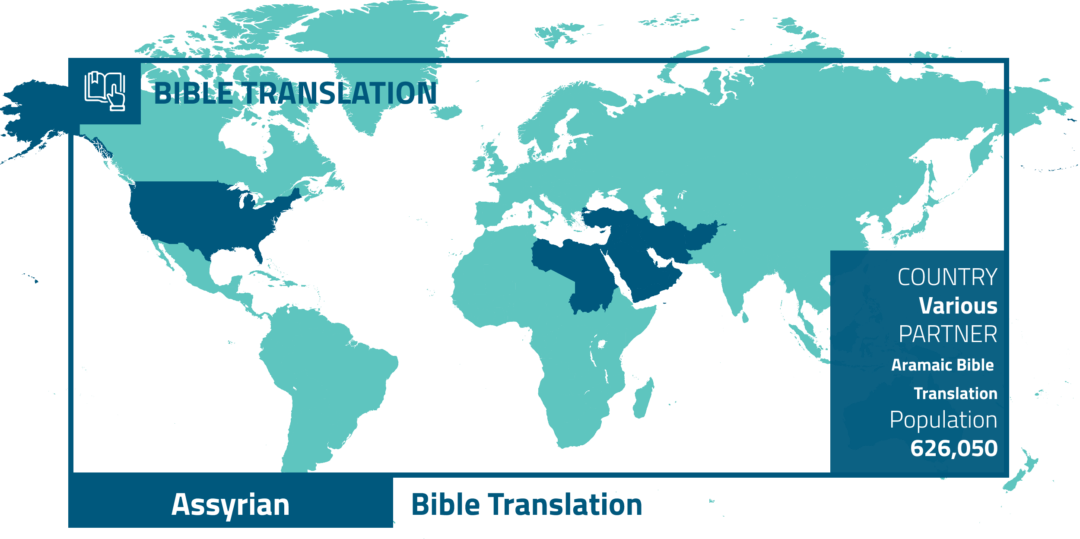 Assyrian Christians have suffered genocide and persecution, which has led to a diaspora around the world. Assyrian Christians in the Middle East have learned Arabic as a national language, but it is not used within their churches. They associate the national language with oppression they have faced, so they hold to their Assyrian language in Scripture and worship.  
But modern readers are no longer able to discern the older versions of Scripture in Assyrian. So, the Assyrian community translated the New Testament into their modern language five years ago. The translation of the Old Testament is underway.  
The full Bible will strengthen Assyrian Christians – in the Middle East and the Diaspora – and encourage outreach in their communities. 
GOALS
Complete draft copies of Nehemiah, 2nd Kings and Daniel.
IMPACT
Pastors working with Assyrian speaking congregations will be able to use the Bibles in Bible studies and church services. 
The full Bible in Assyrian will serve as a foundation for outreach programs to their communities. 
Pray the translated Scriptures bring hope and comfort to Assyrian speakers scattered throughout the world.
Pray for safety for those still in danger from the violence of war and the prejudice of their fellow countrymen.
Want to get involved?
Contact a recruiter and see
what options are available!