Episode 20: Too Small a Thing
What is God calling you to do? We can't begin to wrap our minds around the totality of God's mission. This episode of the LBT sermon series is based in part on Genesis 12:1-3 and originally delivered at Concordia Seminary St. Louis, MO one week before the entire nation shut down for Coronavirus. Join Emily Wilson and Rich Rudowske to discuss life at times of upheaval, and the reminder that God is always in control and has called us into His mission. 
Thank you to Concordia Seminary for the sermon audio: Rudowske, Richard, "084. Genesis 12:1-9" (2020). Chapel Sermons Academic Year 2019-2020. 89.  https://scholar.csl.edu/cs1920/89    
"When we say 'Lord, lead. I will follow,' we are going to go some places that we didn't plan on going. And that we will be stretched beyond our comfort and find that only in our reliance on God can we have peace. And it certainly won't be by our own reason or what we can figure out or manage." – Rev. Rich Rudowske, chief operating officer, Lutheran Bible Translators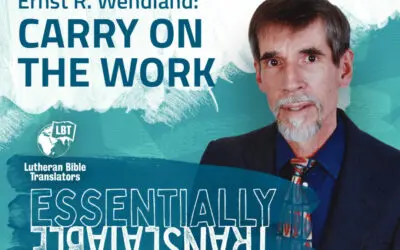 Episode 63: Carry on the WorkSeptember 2, 2022"The opportunity to work with national colleagues — the work on one hand to teach them but on the other hand to learn from them. The greatest joy is to see some of the things that I taught them they are following up on it....