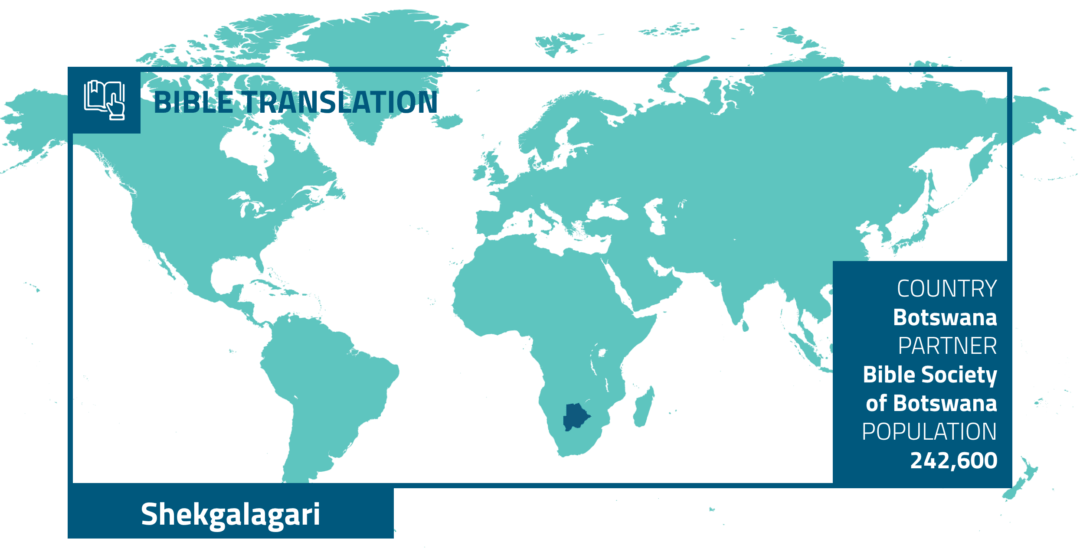 Excitement is growing in the Shekgalagari community! Final consultant checking of the New Testament translation – started in 2009 – is complete. Typesetting, proofing, and printing are all that remain to bring God's Word to 200,000 Shekgalagari speakers in Botswana and Namibia. 
Strong local vision and leadership throughout the years resulted in a community eager to participate in language translation and development. Shekgalagari materials are already in use, as well as Scripture portions. The completed New Testament will enhance worship and strengthen faith as Shekgalagari speakers read and hear God's Word in the language they understand best. 
GOALS
Complete the consultant checking of the New Testament. 
Record the New Testament in audio format.  
IMPACT
Community testing improves understandability through feedback. 
The community takes more ownership of the translation through testing. 
Several of the original founding members of the project's leadership committee have gone to be with the Lord. Pray that new leadership will continue to arise and encourage the team and community.
Pray for skill and wisdom for Pontsho and Tshwari as they craft the translation and interface with the community to refine it, that it will be accurate, beautiful, and clear in the Shekgalagari language.
Pray for the Holy Spirit to prepare the hearts of the Bakgalagari community to receive the Word in their heart language.
Help bring the Shekgalagari language community Scripture in the language that speaks most deeply to their hearts. The area Christian churches anxiously await the arrival of the full New Testament to give them the tools they need for personal spiritual enrichment as well as effective outreach to their people.  
Want to get involved?
Contact a recruiter and see
what options are available!