Episode 94: A Conversation about A.I. | Rev. Dr. Rich Rudowske and Paul Federwitz
Join us for a "fireside chat" approach in this episode, where Rich Rudowske, Executive Director + CEO, is joined by Paul Federwitz, Director for Fields Programs, for a vital conversation about the intersection of cutting-edge technology and the enduring practice of Bible translation. 
The heart of our discussion lies in the relationship between human wisdom and AI's capabilities. While acknowledging AI's potential to enrich the translator's toolkit, our hosts dive further into the irreplaceable value of the human touch and community involvement in rendering Scripture's profound messages. 
The conversation steers clear of technical jargon, offering a clear view of AI's role as a supportive ally rather than a replacement for human expertise. We address the excitement around tech advancements, alongside the careful considerations they demand, all in an accessible chat that will resonate whether you speak tech or are simply intrigued by the potential AI has in a variety of fields. 
Tune in for a balanced discussion that weaves together the human experience, technology in communication, and the promising avenues of AI in Bible translation.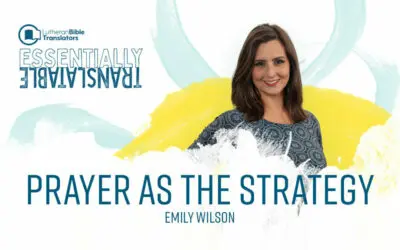 Episode 95: Prayer as the Strategy | Emily WilsonNovember 24, 2023In this episode of Essentially Translatable, co-host Emily Wilson is interviewed by Rev. Rich Rudowske to discuss prayer as the strategy for the Bible translation movement. Emily works in the prayer...