Episode 93: Back from Liberia | Rev. David Federwitz and Calvin Inman
In this episode, we are joined by two staff members of Lutheran Bible Translators – Rev. David Federwitz, Regional Director for West Africa, and Calvin Inman, IT coordinator, who recently returned from Liberia. They discuss the importance of being physically present in their work and how technology is a tool for spreading God's truth. 
The focus of the trip was to work with our partner, the Liberia Translation and Literacy Organization, LIBTRALO. LIBTRALO is working in a number of different languages focused primarily on literacy and Scripture engagement. 
It's challenging to keep up with the rapidly evolving and expanding technology landscape, even for IT professionals. In his IT role, Calvin interacts with a lot of our partners. To best serve partners, IT needs an intimate knowledge of the working environment, the equipment, the people, and more. Without that insight, it's difficult to assess the best course of action when IT issues arise.  
Cultural differences play a role too – Westen society is time-based and African society is often relationship-based. Technology and approach needs to adapt to each context. For this reason, it was critical to be there in person. 
Calvin shared that the first day of the trip was simply getting to know the team, their background, where they live, their family, and more. Once the group opens up with each, it's easier to open up about the issues they're facing with technology. By the end of the trip, issues that have never been raised over the phone, we surfacing and Calvin was able to walk alongside them in fixing the issue. 
It's important to remember that behind every computer in the IT world is a person who is deeply loved by God. Technology is often associated with individuals sitting behind desks in isolation, but in reality, all aspects of IT involve working with people. Whether it's networking, software development, or PC support, the ultimate goal is to serve and support individuals. This perspective shapes their perception of IT work, it's a means to serve and support God's people in their mission.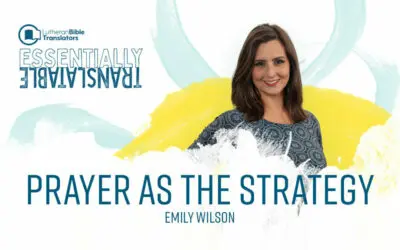 Episode 95: Prayer as the Strategy | Emily WilsonNovember 24, 2023In this episode of Essentially Translatable, co-host Emily Wilson is interviewed by Rev. Rich Rudowske to discuss prayer as the strategy for the Bible translation movement. Emily works in the prayer...