Episode 92: A Lifetime in Nigeria | Rev. Chuck and Karen Tessaro
In this episode, we sit down with Rev. Chuck and Karen Tessaro, missionaries who have been serving in Nigeria since 1985. The Tessaros share their experiences working on translation projects and their transition to a role of consulting and equipping the church. They discuss the importance of putting God's word in people's hands (having served with Lutheran Bible Translators since 2003) and how it has led to new insights and a deeper understanding of faith.  
The Tessaros are an inspiration in their reliance on God through prayer. Prayer is so much more than an individual practice; prayer can foster unity and acts as a collective effort to address challenges that arise in translation ministry.
Throughout their time in Nigeria, the Tessaros have lived amongst the community – going to market, sitting in conversation with, and praying with them. Nigeria has encountered significant times of suffering through war and food scarcity, and yet the Tessaros and many others they've impacted were able to stay mindful of the Lord's presence and His provision. 
Discover the power of God's Word, the value of building relationships, and the impact of prayer in this enlightening episode.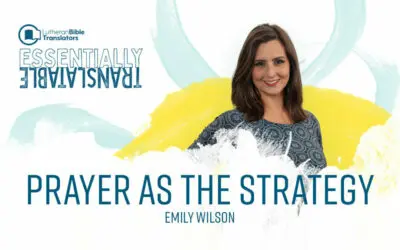 Episode 95: Prayer as the Strategy | Emily WilsonNovember 24, 2023In this episode of Essentially Translatable, co-host Emily Wilson is interviewed by Rev. Rich Rudowske to discuss prayer as the strategy for the Bible translation movement. Emily works in the prayer...