Episode 91: Teaching TCK's | Deanne Gochanour
Did you know? The number one reason missionaries leave the field is the lack of quality education for their children.  
In this episode of Essentially Translatable, we welcome Deanne Gochanour, Lutheran Bible Translators missionary to Ethiopia. She teaches Bible and assists in the athletics department at Bingham Academy in Addis Ababa. Bingham serves missionary, local, and other expatriate students from KG1 (pre-K) through grade 12. By teaching at Bingham Academy, Deanne helps keep missionaries on the field by providing quality education for missionary kids. 
Educating children of missionaries requires its own unique approach. The term "third culture kids" (TCK) refers to people raised in a culture other than their parents' or the culture of their country of nationality and also live in a different environment during a significant part of their child development years. 
Deanne elaborates on her experience supporting TCKs, including creating the space for open expression of struggles, joys, and challenges.
Dive into this episode to learn more about missionary service as an educator and the unique experience of TCKs.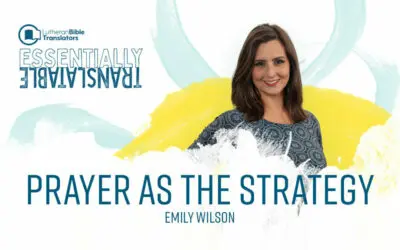 Episode 95: Prayer as the Strategy | Emily WilsonNovember 24, 2023In this episode of Essentially Translatable, co-host Emily Wilson is interviewed by Rev. Rich Rudowske to discuss prayer as the strategy for the Bible translation movement. Emily works in the prayer...