Episode 64: Growth in Nigeria
"We want to see God's Word, especially in the minority languages of Nigeria. We believe that if people have God's Word in their language, then their lives will be transformed." 

— Rev. Kierien Ayugha
Rev. Kierien Ayugha is an ordained pastor in the Lutheran Church of Nigeria, a Bible Translation Consultant in training and serves as an International Associate with Lutheran Bible Translators.
He currently serves as lecturer/professor in the Linguistics and Bible Translation Department at the Theological College of Northern Nigeria, training the next generation of Bible Translators for work in Nigeria and surrounding countries.
Kierien is currently studying for his PhD degree in Narrative Discourse Analysis at Vrije Universiteit Amsterdam.
Hear what God is doing in Nigeria through Bible translation in this interview with Rev. Kierien Ayugha.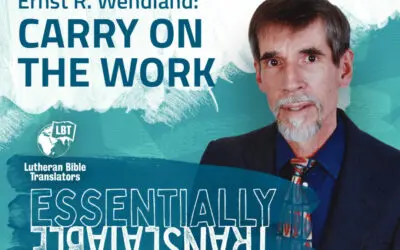 Episode 63: Carry on the WorkSeptember 2, 2022"The opportunity to work with national colleagues — the work on one hand to teach them but on the other hand to learn from them. The greatest joy is to see some of the things that I taught them they are following up on it....