Episode 36: Reaching the Unreached
I thought that everybody was reached by the language. And so, I felt comfortable that everything was done. During these three years, I have gotten exposure to the grassroots people, especially the different small groups, who have their own vernacular. These people have no other access to the Word of God.
–Dr. Berhanu Ofgaa
Rev. Dr. Berhanu Ofgaa serves as Lutheran Bible Translators' Programs Director in Ethiopia. Previously, he served as General Secretary for the Ethiopian Evangelical Church Mekane Yesus (EECMY). Lutheran Bible Translators and the EECMY partner together for the expansion of Bible translation work in Ethiopia.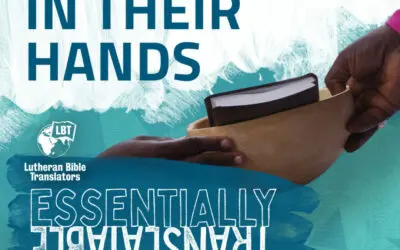 Episode 69: In Their HandsNovember 25, 2022Lutheran Bible Translators' missionaries recount the amazing sights and sounds of Scripture dedications around the world. Listen in to the stories of impact as people received God's Word for the first time in their own...