Episode 31: Enduring Word
Many churches do not know about the ongoing need for Bible translation. Millions of people are still without Scripture in a language they understand. Join the Bible translation movement to put God's Word in their hands.
Mark your calendar. Sign up to receive resources! Bible Translation Sunday is September 26th this year.
Dr. Reed Lessing is this year's sermon contributor for Bible Translation Sunday. He is the Director of the Center for Biblical Studies, a professor at Concordia University St. Paul, and the author of several Old Testament commentaries.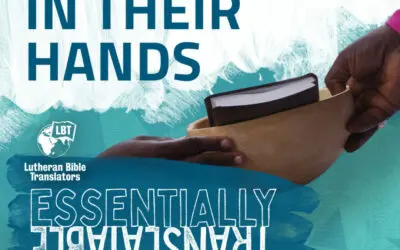 Episode 69: In Their HandsNovember 25, 2022Lutheran Bible Translators' missionaries recount the amazing sights and sounds of Scripture dedications around the world. Listen in to the stories of impact as people received God's Word for the first time in their own...