Episode 22: The ABC's of Bible Translation
"Once upon a time…" The phrase may sound beautiful, but it would not be an accurate way to begin the story of Jesus's birth. Now try to begin to imagine all the struggles of translating in another culture and language!  Join Dr. Becky Grossmann and co-hosts, Emily Wilson and Rich Rudowske, to discuss the idea of discourse, why it's important, implementation and outcomes in translations, and the joy found in God's Word.
"When you're translating, you want to make sure that you're using features that are natural in their language..." – Dr. Becky Grossmann, Bible translation consultant, Lutheran Bible Translators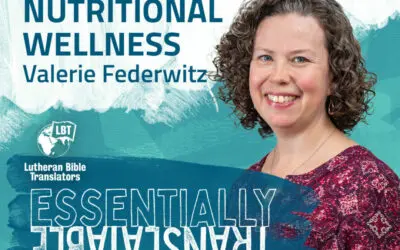 Episode 66: Nutritional WellnessOctober 14, 2022"It's not widely talked about, but I think stress is one of the biggest threats to overall health." — Valerie Federwitz Lutheran Bible Translators' Nutrition and Wellness Consultant Valerie Federwitz provides support for...