Episode 19: A Very LBT Christmas
Cozy up by the fire or your favorite chair and take a Christmas tour around the world. Celebrate Christmas Lutheran Bible Translators style! What do you love about Christmas? Context, memories, food, decorations, culture… What makes Christmas seem complete? Join Emily Wilson and Rich Rudowske to discuss traditions and family, the Word in action, Scripture coming alive, and what Christmas is all about.
"One of the wonderful things about Christmas is to give… God gave us our greatest need and gave it to us lavishly." – Rev. Rich Rudowske, chief operating officer, Lutheran Bible Translators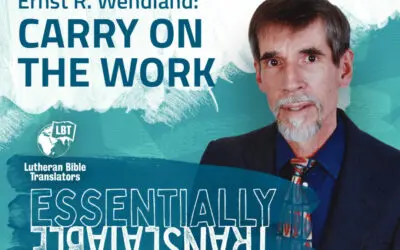 Episode 63: Carry on the WorkSeptember 2, 2022"The opportunity to work with national colleagues — the work on one hand to teach them but on the other hand to learn from them. The greatest joy is to see some of the things that I taught them they are following up on it....