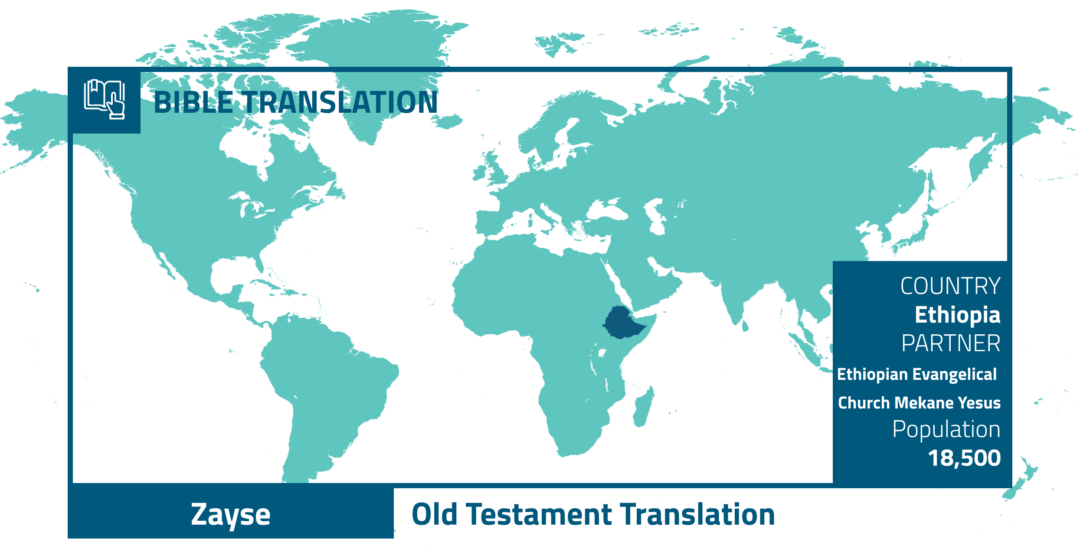 ​The history of Christianity in Ethiopia dates to the 4th century. Yet many of the 85 language communities in Ethiopia do not have access to the Bible in a language they can understand. The Zayse New Testament is ready for publication. Drafting and reviewing remains to be done on multiple books as the translation team makes a final push to complete the Old Testament. 
The complete Zayse Bible will provide the history of God's plan for salvation and the culmination of His promise through Jesus Christ in a language the Zayse can truly understand. People will grow in faith as the Bible becomes widely used in local churches. 
GOALS
Draft the books of Joshua, Exodus and Esther.
Complete consultant checking on books already drafted.
IMPACT
More Bible resources are available for churches to share. 
Faith deepens as Bible knowledge increases. 
Pray Old Testament translation progresses quickly.
Pray Zayse Scripture materials will be widely used in churches and homes.
Pray Zayse speakers grow in knowledge and faith as they engage with Scripture in their language.
Want to get involved?
Contact a recruiter and see
what options are available!