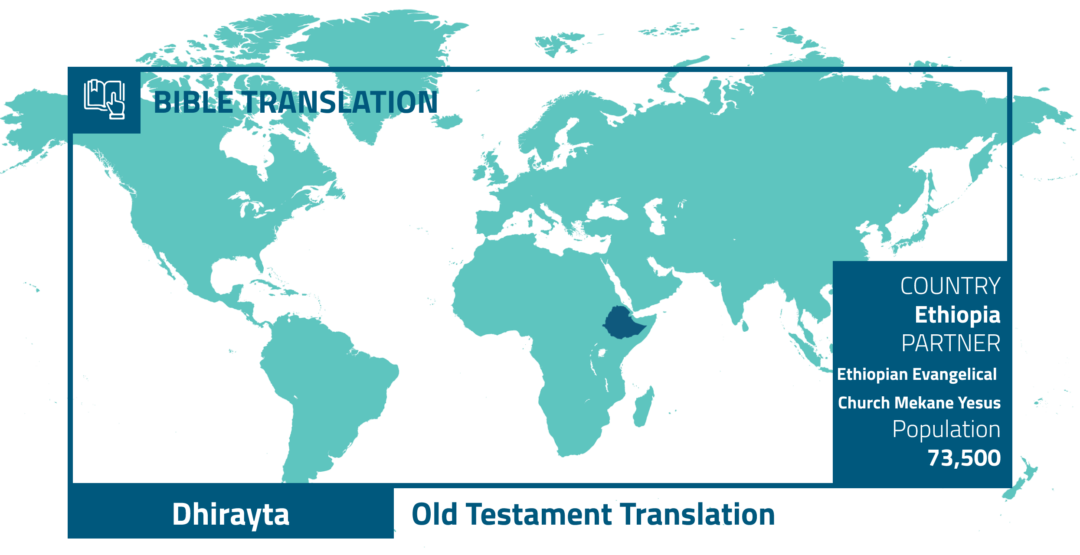 Dhirayta speakers in Ethiopia will soon have the New Testament in their language. A limited number of copies of Genesis, Ruth, and Jonah are also available. But much work remains to be done to complete the Old Testament translation. 
A complete Bible will provide a comprehensive history of God's interaction with humanity, from Creation to the fulfillment of His Messianic promise. Faith and commitment to a Christian life will deepen as the Dhirayta learn of God's steadfast and enduring love for all people. 
GOALS
Complete draft copies of Joshua, Judges and Esther.
Encourage the use of Scripture materials across a wider audience by completing an audio recording of the book of Genesis.
IMPACT
Worship has greater impact as people read and hear Scripture in their language. 
Faith deepens as Bible knowledge increases. 
Pray for good health and perseverance for the translation team as they draft and review the rest of the Old Testament.
Pray Scripture materials are well received by the Dhirayta community.
Pray for the team as they develop new programs to help people interact with God's Word.
Want to get involved?
Contact a recruiter and see
what options are available!