Episode 18: Transforming Lives
God's Word in people's hands and hearts. Removing barriers and transforming lives. Join Rev. Carl and Kelsey Grulke and host, Rich Rudowske to discuss mission work and family, especially life with bigger families, scripture engagement strategy, cross-culture living, and so much more. 
"This is God's Word that transforms lives! And we want to make sure that whatever resources are needed are available and are easily accessible for the people that need them." – Kelsey Grulke, Scripture Engagement missionary, Lutheran Bible Translators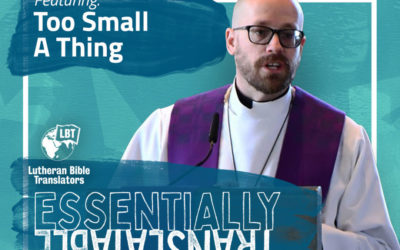 Episode 20: Too Small a Thing January 08, 2021 What is God calling you to do? We can't begin to wrap our minds around the totality of God's mission. This episode of the LBT sermon series is based in part on Genesis 12:1-3 and originally delivered at Concordia Seminary...