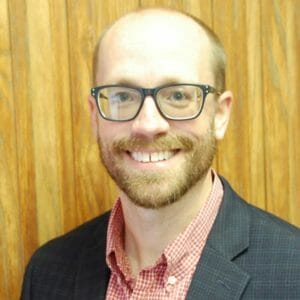 Director for Program Ministries 
Rich Rudowske is a born networker. He loves to link needs with resources. His work experience includes a broad range from finance, to pharmacy tech, to parish pastor.
Rich has lead LBT's International Program Ministries since September 2014. He is responsible for oversight and cultivation of language programs, missionary personnel, and partner relations with Lutheran churches and Bible agencies around the world.
As Rich himself says, "This job is the ultimate networking opportunity to connect resources with needs to make the Word of God accessible to millions of people worldwide."
Rich has lived with his wife, Maya and their five children in the remote Kalahari Desert of Botswana where he was involved in language work and mission ministry. His leadership skills were quickly recognized and within a few years he was appointed LBT's Regional Director for Southern Africa where he served until 2014.
Before joining LBT, Rich received the M.Div from Concordia Seminary, St. Louis. He served as Vicar and Associate Pastor of Emmanuel Lutheran Church (LCMS) in Kettering, Ohio from 2003 to 2007. Rich has also done graduate level work in applied linguistics at the Graduate Institute of Applied Linguistics in Dallas Texas and is currently a missiology doctoral student at Concordia Theological Seminary, Fort Wayne IN.
Originally from Southwest Michigan, Rich and Maya and their family live in Concordia, MO. Rich is an avid runner and enjoys biking, baseball, and reading. Maya enjoys cooking, needlecraft, and a good game of volleyball.