Rev. Tim and Lisa Beckendorf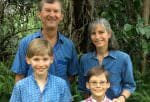 Missionaries Rev. Tim and Lisa Beckendorf are professionally trained and equipped for cross-cultural and native Bible translation ministry.
Tim served as a volunteer missionary with the LCMS for one year in Slovakia, teaching English as a Foreign Language at the Lutheran High School of Tisovec. Lisa was born and grew up in Papua New Guinea, where her parents were missionaries. She returned to the States at age 17, to attend college. She later served three years as a volunteer missionary in Slovakia, where she met Tim.
What Tim and Lisa experienced—struggling to understand while worshipping in a Slovak congregation—has made them acutely aware of the need for people to have Scripture in their own language. Their experience in Slovakia really touched their hearts, and ultimately led them to serve as translators with LBT.
Bring the Word of God to The People – Become A Missionary
Tim was ordained at Immanuel Lutheran Church in Osmond, Nebraska in 2003. Since July 2005, Tim and Lisa have been working with LBT among the Khwe people of Botswana. They have two sons, Aaron and Andrew and currently live in Shakawe in northern Botswana.
LBT is seeking Lutherans to serve overseas through the ministry of Bible translation and Scripture Engagement. If you feel that God may be leading you towards missions or if you wish to make Bible translation donations for a missionary, LBT may have a place for you.
IS IT TIME TO DO SOMETHING?
If you feel that God may be leading you towards missions as a career, we may have a place for you.
If you wish to make a financial contribution to Bible translation, you may do that here.