Rev. Andrew and Alexis Olson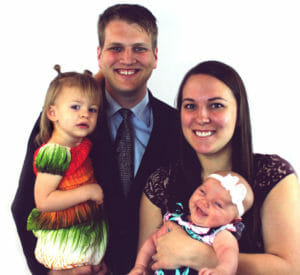 Rev. Andrew and Alexis Olson are excited and honored to serve the Lord their Savior through assisting with Bible translation work in Tanzania, East Africa.
Andrew grew up in the Minneapolis area. At age 13, his family was called to teach at a Bible College in Tanzania for nine months. During this time, he felt the call to serve in Bible translation ministry. He saw the fruits of a missionary's work as numerous people were brought into God's kingdom after viewing the Jesus film.
Andrew received a BA in Christian Ministry from Northwestern College in St. Paul, Minnesota. He then spent a year in Uganda helping to translate curricula for the Ambassador Institute. While in Uganda he met Alexis. Upon his return to the U.S. the two kept in touch. Andrew attended seminary and received a Master's in Divinity in 2017.
When Alexis was 17, she and her family moved from North Carolina to Uganda to serve as missionaries. She saw the great need for the soul-saving Gospel of Jesus Christ to spread across the world. After a year in Africa, she returned to the U.S. With Andrew's encouragement, she moved to Minnesota and attended Bible college.
Andrew and Alexis were married in 2015. They have two children, Mariah and Selah.
It's about Jesus
"God desires that all people everywhere come to know Him," says Andrew. "As each person uses their gifts and abilities to serve His kingdom, more and more people can come to know Christ as their Savior. 2 Corinthians 4:5 says, 'For what we preach is not ourselves, but Jesus Christ as Lord, and ourselves as your servants for Jesus' sake.' It's all about Jesus and declaring what He's done for people of every nation and tongue."
LBT is seeking Lutherans to serve overseas through the ministry of Bible translation and Scripture Engagement. If you feel that God may be leading you towards missions or if you wish to make Bible Translation donations for a missionary, LBT may have a place for you.
Links to others sites
Downloads
As we begin the work of Bible Translation in rural Tanzania, having a reliable vehicle will be essential.
Not just any car will work. Many of the roads on Ukerewe Island and the surrounding areas are dirt roads, and they can be quite rough. Four wheel drive will be a must, especially during the rainy and muddy months. The church in Tanzania has recommended that we purchase a mid-sized SUV with Four Wheel Drive.
Lord willing, we will serve in Tanzania for more than just a few years. Would you invest with us in the recommended reliable and safe vehicle?
If you've been considering a one-time gift to the ministry of Bible Translation, would you consider giving to our mission vehicle fund?  
If you can't give today, but are able to give before April 2019, let us know so we can plan.
IS IT TIME TO DO SOMETHING?
If you feel that God may be leading you towards missions as a career, we may have a place for you.
If you wish to make a financial contribution to Bible translation, you may do that here.