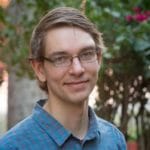 Missionary Michael Ersland is excited to be living in Ghana as a translation advisor for the Komba Old Testament translation project. 
Michael, the youngest of six children, grew up in three states. However, he spent most of his childhood in rural Kansas. His father, a Lutheran pastor, took a call to Oklahoma when Michael entered middle school.
Respond to God's Call and Become a Missionary
During his teenage years, Michael began to be drawn to the international mission field. This interest drew him to Concordia University Wisconsin's strong mission program. His studies and mission related experiences (shadowing a missionary in Peru and LBT's Crossroads experience in Botswana, southern Africa) affirmed his missionary spirit and his call to cross cultural ministry. Michael completed his bachelor's degree in Biblical Languages for Translation and Missions in 2014.
LBT is seeking Lutherans to serve overseas through the ministry of Bible translation and Scripture Engagement. If you feel that God may be leading you towards missions or you wish to make Bible translation donations for a missionary, LBT may have a place for you.
IS IT TIME TO DO SOMETHING?
If you feel that God may be leading you towards missions as a career, we may have a place for you.
If you wish to make a financial contribution to Bible translation, you may do that here.