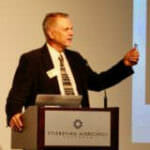 Executive Director
Dr. Mike Rodewald has been the Executive Director for Lutheran Bible Translators since June 2014. He believes passionately that God's word is for all people. As Executive Director, Mike looks for ways to reduce the barriers that keep the world from understanding God's message. He is committed to growing LBT's vision, building LBT's capacity, and reaching even more people with God's Word.
Mike served as an LBT missionary in northern Liberia (western Africa) with the Bandi ethnic group from 1981 to 1987. He returned to the US to work on a graduate degree during which period, a civil war in Liberia broke out. He met Cindy who was also studying linguistics. Mike and Cindy were married in 1990 and returned to Liberia in 1991 during a ceasefire between government and rebel groups. While there they helped with relief efforts and initiated literacy materials and programs with refugees who had gathered in the capital city of Monrovia. When the ceasefire broke in late 1992, Mike and Cindy and their newly born son Caleb evacuated from Liberia to Cote d'Ivoire.
As the war continued, the Rodewalds were asked to serve in Botswana with the Lutheran Church in Southern Africa. They accepted and made a new home in Francistown near the Zimbabwe border serving with LBT in support of the Kalanga Bible Translation Project from 1993 through 2007. Mike and Cindy researched language and developed a writing system and literacy program with the Kalanga people, an ethnic group of over 200,000 in Botswana and Zimbabwe. The Rodewalds also provided linguistic research, literacy and orthography consultancy with the Humbukushu and Wayeyi people and developed Sunday School programs and church-planting materials. During their time in Francistown, sons Jacob and Seth were born. In January 2008, Mike and Cindy began missionary service with the LCMS and moved to South Africa.
Mike and Cindy were most recently associate missionaries with LBT serving with the Lutheran Church–Missouri Synod (LCMS). They lived in South Africa, where Mike served as LCMS Regional Director–Africa with the Office of International Mission to facilitate LCMS relationship with Lutheran churches throughout Africa. He also directed the work of LCMS missionaries in Ghana, Guinea, Kenya, Ethiopia and South Africa and supervised LCMS partner projects throughout the Africa continent. Cindy served as LCMS Volunteer Coordinator for southern Africa and supervised short-term teams and two-year GEO missionary teachers in South Africa.
Mike is originally from Missouri, and Cindy is from California. Mike holds a Ph.D. in Missiology from Concordia Theological Seminary and a Master's in Linguistics from the University of Texas–Arlington.
Tel.: 1-800-532-4253 or
1-660-225-0810, ext. 130
ARE YOU READY TO VOLUNTEER?
LBT is seeking Lutherans to serve overseas through the ministry of Bible translation and Scripture Engagement. If you feel that God may be leading you towards missions, LBT may have a place for you.