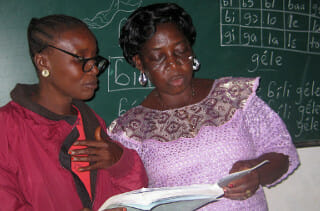 Literacy for Life
The ability to read and write is something that many of us take for granted. Think about how many parts of our life are dependent on literacy.
Our partners at LIBTRALO in Liberia are going into the hard to reach areas of the country to support basic literacy skills using primers and scriptures previously translated in partnership with LBT missionaries.
Every $30 gift funds one week of literacy classes for 10 people. A weekly session is planned for each month of the year for seven different minority languages of Liberia.
Your gift helps build personal capacity in mother tongue literacy, building skills for life and increasing access to God's word for these marginalized communities.
Raised:

1%

1%

Remaining:

99%

99%
ARE YOU READY TO VOLUNTEER?
LBT is seeking Lutherans to serve overseas through the ministry of Bible translation and Scripture Engagement. If you feel that God may be leading you towards missions, LBT may have a place for you.